Scotland.
There are few places in my life that I've found more ruggedly beautiful than the Highlands of Scotland. The place is magical – it's so far north, so remote, that sometimes it feels like you've left this world and gone to another. -Julia London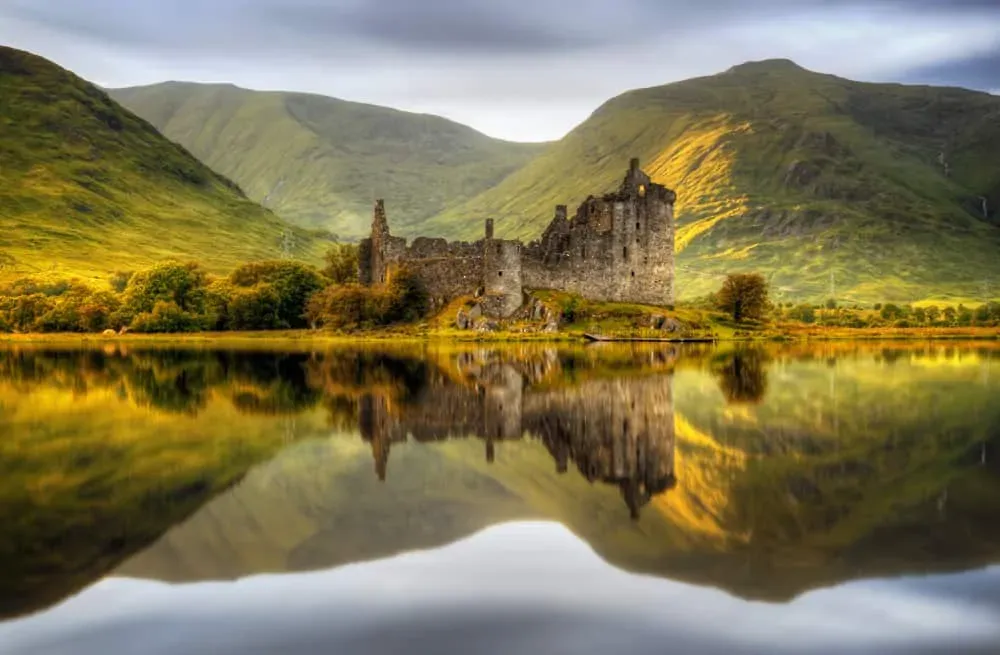 Chronicling gorgeous real estate from around the world gives me a ready avenue to both gawk at the exquisite homes from far away counties and talk about global economic forces. Scotland provides an exceptional venue for our journey. Edinburgh, Scotland's capital is in the photograph below, and Aberdeenshire, the Scottish highlands is in our masthead. The stunning real estate might be pricey, but everyone likes to imagine and dream big.
Dalhebity House, a sprawling mansion built on a 10-acre property in Aberdeenshire (150 miles north of Edinburgh) that once belonged to Princess Diana's grandmother, came on the market Tuesday for £7.5 million (US$9.4 million). It is the most expensive residential property for sale in Scotland, according to listing records according to the WSJ's Mansion Global.
At more than 30,000 square feet, the main house was built by owners Aberdeen Football Club chairman Stewart Milne and his partner Joanna Robertson in 2009 but incorporates old-world design touches including turrets, Juliet balconies, and a grand main entrance framed by marble floors, high ceilings, and a horseshoe staircase. High ceilings and large windows are incorporated throughout, bringing in abundant natural light and creating a sense of spaciousness. Fiona Gormley of Savills has the listing.
Mr. Milne, who was not immediately available for comment, tore down an older home on the property in order to build the new period-accurate but eco-friendly main residence.
The previous home on the property was the birthplace of Ruth Sylvia Gill, mother of Princess Diana's mother Frances Shand Kydd, The Herald Scotland has reported.
"The sheer scale and finish of this sumptuous house are hugely impressive and yet the clever design and layout mean the space does not overwhelm," Ms. Gormley said in an emailed statement. "A modern-built house of this stature is utterly unique in Scotland and it's an extraordinary achievement. A new owner can be confident of a private setting and yet first-class airport and city accessibility, too."
In addition to eight-bedroom suites, the home features ample living and entertaining space including four reception rooms and eight "informal" rooms, per the listing, most of which feature fireplaces and large windows. An upstairs cocktail bar with its own kitchen facilities opens into a reading room, according to marketing materials, and listing photos show a grand dining room with its own fireplace, as well as a wood-paneled library with built-in shelves.
The primary suite is designed with a turreted seating area, a marble fireplace, a private balcony, an en-suite bathroom, as well as two separate dressing rooms with walk-in closets, one with a refrigerator and coffee machine. A "spa complex" includes an indoor pool area with a hot tub and high, atrium-style glass ceiling, as well as a tiled steam room and Swedish sauna, a massage and treatment room, and a "relaxation room," as well as changing suites with showers and pool access.
A separate staff apartment with three en-suite bedrooms is built into the house, and the property also features sheltered grounds, an all-weather tennis court, and a small lake.
Located along Scotland's Northeast coast, Aberdeenshire county is home to Balmoral Castle—the Royal Family's Scottish holiday home—as well as extensive farmlands, numerous golf courses, and the city of Aberdeen, which is considered to be the energy capital of Europe due to its significant oil and gas industries.
The market in Scotland
In total, almost £250 million (US$334.6 million)—a record—was invested in the purchase of Scottish estates in 2021, up 119% from £113 million in 2020, and a whopping 333% jump from 2018 when £57 million was invested in the sector.
The average price of an estate sold last year, meanwhile, was £8.8 million, almost double the typical £4.7 million that was spent per property in 2020.
"The estate market during 2021 was more active and dynamic than at any time in my 20-year career," Robert McCulloch, head of estates and farm agency for Strutt & Parker in Scotland, said in the report.
The prosperity and strength of the market are underpinned by two key factors, according to Mr. McCulloch. The first is the pandemic-induced push to greener pastures and lifestyle changes that have resulted in a significant appetite for rural living. I suspect escaping the close convinces of the big city provides the primary motivation for most.
Property prices in Scotland have risen by 14 percent (split between new & existing home sales) since the start of the Covid-19 pandemic, with the average price of property now at £193,777, according to Halifax.
According to Knight Frank, " The UK property market has defied gravity over the course of the pandemic. Tight supply, low-interest rates, accumulated household wealth, and a desire for more space and greenery have conspired to produce double-digit house price growth over the last year."
They believe that 2022 is when growth returns to single digits.
Knight Frank predicts that UK prices will grow by 5% this year, with several factors acting as a drag on the rampant growth that has taken place in recent months despite the end of the stamp duty holiday last September.
Mortgage rates will continue to rise alongside interest rates as the Bank of England will feel a need to respond to inflationary pressures (30-year highs) in the short term and the UK's economic recovery in the longer term.
As the distortive effects of the pandemic fade, the supply shortage has been the single biggest cause of strong house price growth over the last two years and there are early signs this spring that housing stock levels are building.
The 'race for space' to the countryside will calm down without disappearing altogether. For many people, the post-Covid work-life balance is far from set in stone and demand will still be fuelled by a desire to improve living arrangements after successive lockdowns, in many cases enabled by the accumulation of household wealth and the fact many sectors of the economy have performed well during the pandemic.
However, Knight Frank believes the cost-of-living squeeze will bite harder in 2023 expecting house prices to climb by only 1% before starting to slowly pick up again
Has the pandemic changed the global psyche for good? Only time will tell. But collective memories are very short.
Until next time. Travel safe.