NYC Billionaires' Row.
Since 1921, the iconic Crown Building has presided over the midpoint of Manhattan at the corner of 57th Street and Fifth Avenue.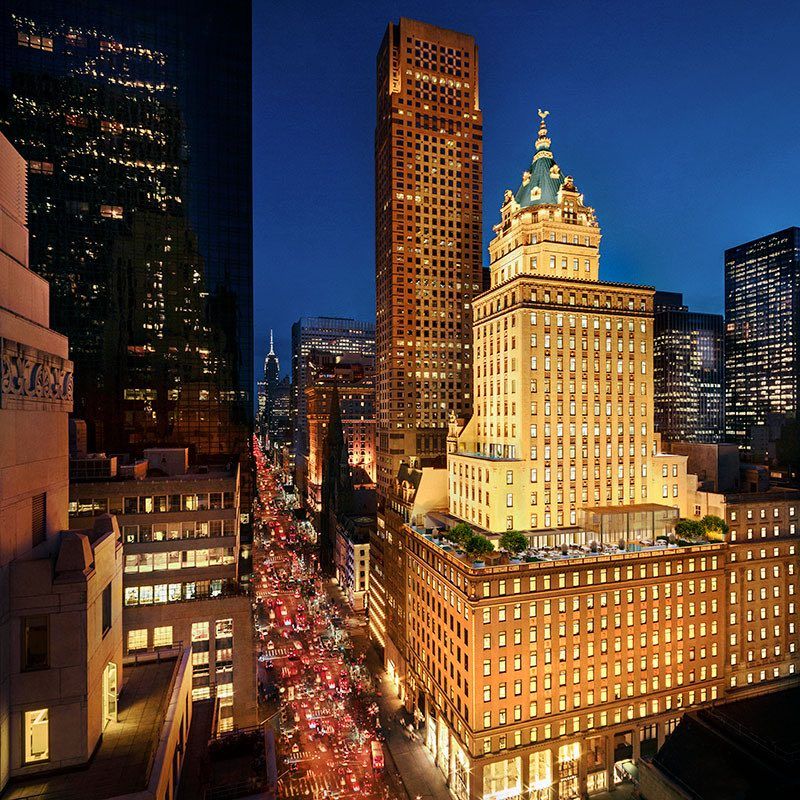 A stunningly beautiful full-floor apartment on New York City's Billionaires' Row has sold for $55 million. The Aman New York deal is one of the most expensive real estate purchases to close in the city this year.
The apartment comprises the entire 22nd floor of the Crown Building near the southeast corner of Central Park. The asking price was roughly $62.5 million, according to the offering plan filed with the New York Attorney General's office.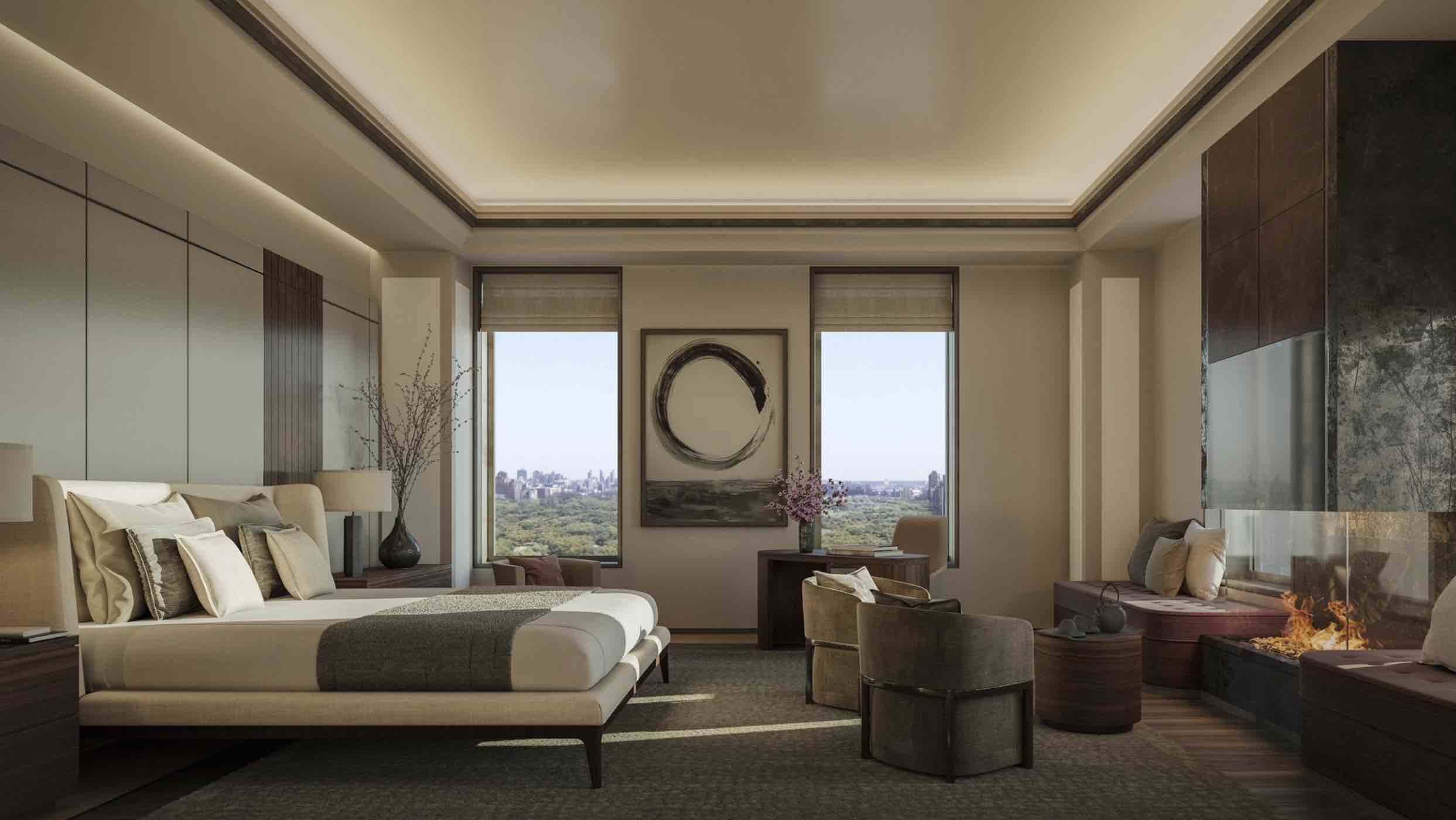 Since 1921, the Crown Building has presided over the midpoint of Manhattan; the corner of 57th Street and Fifth Avenue. Formerly the first home of the Museum of Modern Art, the 100-year-old building has undergone a monumental transformation, which has seen it fully restored to its original splendor and infused with the inimitable spirit of Aman luxury.
The 83-room property will also feature 22 private residences — a first for Aman. Those one to six-bedroom apartments will offer access to hotel amenities, along with outdoor terraces and heated swimming pools. At least one will feature an incredible panorama of Central Park.
That's not to say that hotel guests will be wanting for indulgence. A three-story spa will house an indoor swimming pool, numerous treatment rooms and hydrotherapy options, a banya (or Russian-style sauna), and a hammam. The wellness center will also feature plunge pools, outdoor terraces, yoga facilities, and gym equipment.
Three restaurants are planned: Nama, which will serve sushi; Arva, with an Italian menu and Central Park views; and The Wine Library, to be used for private events.
The 22nd-floor unit that was recently purchased comprises roughly 6,300 square feet with four bedrooms, according to the offering plan. The identity of the buyer, who was represented by Tal Alexander of the Alexander Team at Douglas Elliman, was not disclosed. The broker, Mr. Alexander is also not providing details.
Aman New York is developed by Miami-based OKO Group, the development company founded by Aman owner and chairman Vlad Doronin, as well as London-based Cain International, a private real estate investment and development company. Sales started on the project in early 2020.
THE LUXURY AMAN BRAND
Unfamiliar with the Aman luxury brand, I did a little research. Drawing its name from the Sanskrit-derived word for 'peace', Aman has enjoyed an organic evolution for over three decades to become one of the world's most intuitive and pioneering resort, hotel, and residence brands. Responding to those seeking the peace, seclusion, and appreciation of beauty that are intrinsic parts of the Aman lifestyle, the brand's journey has been inspired by a singular, authentic and original intent: To provide a level of service and a home-away-from-home experience that is exceptional in every way.
Aman is one of the iconic brands to have emerged from Asia. Widely thought of as the best luxury resort brand in the world, Aman is known for ultra-premium service, luxury, high-profile clientele, and the most exotic locations.  Aman has built a reputation for providing a divine and peaceful experience by maintaining exclusivity while being totally discreet about its clients. Many of them are among the world's most famous celebrities.
The Aman brand was born out of Adrian Zecha's desire for "faultlessly discreet" luxury. The first of the Aman resorts was started in Phuket, Thailand in December 1987 and it was called Amanpuri. Based on its founding philosophy, Amanpuri had fewer than 50 rooms as against the over 400 room norms of the big hotel chains. This was a part of the strategy. By having fewer than 50 rooms in each of the Amanresorts, the company has been consistently able to provide world-class personalized service to every guest. Aman runs one of the highest yields per room in the entire industry.
Aman currently embraces 34 hotels, resorts, and residential developments in 20 countries, 15 of which are located close to or within Unesco-protected sites. Each reflects the unique cultural heritage of its destination through sensitive design, inspired cuisine, and personalized wellness and experiential journeys.
NEW YORK REAL ESTATE
New York has seen only a small scattering of high-end transactions this year, including a $70 million sale at 432 Park Avenue, which is also on Billionaires' Row, by British pharmaceutical magnate Meeta Patel as well as the $56 million sale of a nearby townhouse that was tied to Algeria-born businessman Farid Bedjaoui. Billionaire investor Daniel Och also closed on selling a Manhattan penthouse overlooking Central Park for close to $190 million.
While the New York luxury market has been highly active in recent months, there have been few transactions of $50 million and above, local agents said. According to a person familiar with the situation, the Aman 22nd floor apartment deal is expected to be topped by several other deals in negotiation. But that is just speculation.
According to April 2022 data,  New York home prices were up 7.0% compared to last year, selling for a median price of $820K. On average, homes in New York sell after 77 days on the market compared to 105 days last year. The only negative appears to be total volume, with 3,243 homes sold in April this year, down from 3,400 last year.
THE US HOUSING MARKET
Overall, the US housing market appears to have signs of overt exuberance according to the Federal Reserve Bank of Dallas.  A tipping point might be forming according to the Dallas Fed's indicator (below). Not sure why the color mismatch on the graphic, but "exuberance" is indicated where the color changes from black to light blue.
According to the Dallas Fed's recent blog post, "our evidence points to abnormal U.S. housing market behavior for the first time since the boom of the early 2000s. Reasons for concern are clear in certain economic indicators—the price-to-rent ratio, in particular, and the price-to-income ratio—which show signs that 2021 house prices appear increasingly out of step with fundamentals."
"While historically low-interest rates are a factor, they do not fully explain housing market developments. Other drivers have played a role, including pandemic-related U.S. fiscal stimulus programs and COVID-19-related supply-chain disruptions and associated policy responses. The resulting fundamental-driven higher house prices may have fueled a fear-of-missing-out wave of exuberance involving new investors and more aggressive speculation among existing investors."
With rising interest rates, we will see how well new real estate buyers absorb the higher interest rates.
Until next time. Travel safe.