Mr. October.
Reggie Jackson epitomized mental excellence for his achievements against the toughest competition and the most brutal critiques, under the harshest lights and on the biggest stage, the world of sports could offer.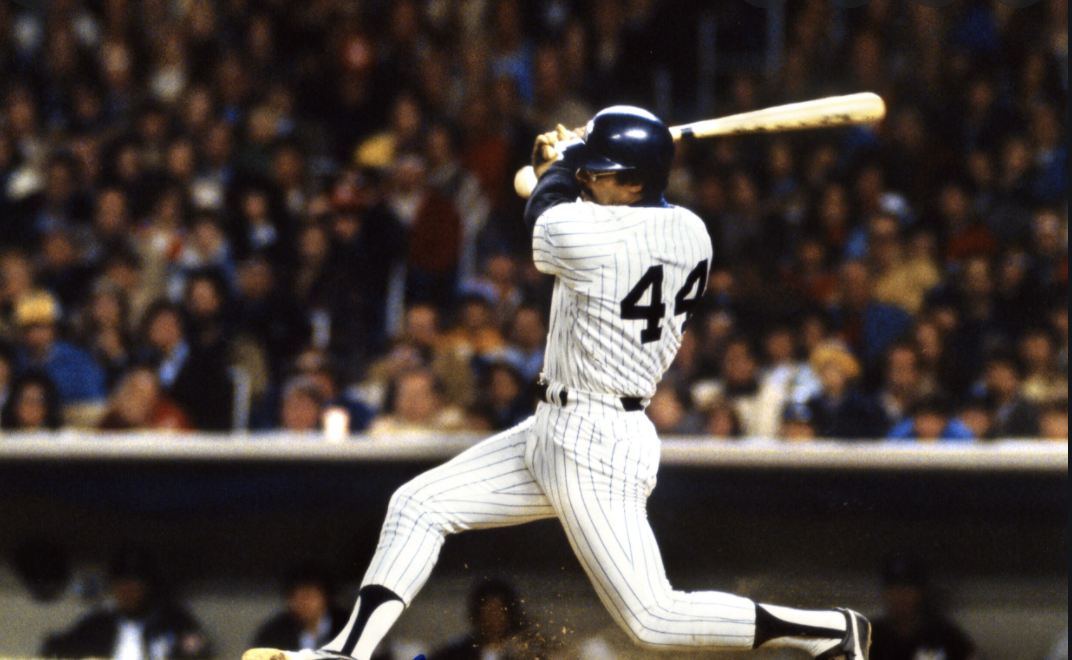 April brings the cool breezes of spring and America's favorite pastime. Baseball. The smell of cut grass and pine tar. The vendor's droning chant of, "Hot dogs and cold beer here!" The crack of the bat. The pop of a ball hitting a leather glove. These are the sounds of my childhood and the year since. My love affair with baseball is 50 years old. But America's romance with the diamond is over 160 years.
Before professional baseball teams called cities home, team owners took their players on the road in the form of "barnstorming" tours. These "barnstorming" tours played an important part in the development of the National Pastime. Little documentation or artifacts remain from those early days of the major leagues. That history is alive today at the National Baseball Hall of Fame in Cooperstown.
The first formal barnstorming tour took likely took place in 1860 when the Brooklyn Excelsior, a talented amateur team of the time played games around the state of New York. As the years passed and leagues become more prevalent, only preseason and postseason barnstorming were allowed. And by the 1880s, postseason barnstorming became the norm.
In 1903 in an effort to end a bitter two-year rivalry and promote unity in baseball, the veteran National League and newly established American League decided to bury the hatchet and come together for a new kind of season finale.
Nine years earlier, the two top teams in the National League competed in an experimental post-season championship in which Boston beat Pittsburgh five games to three. In 1903, both teams (now in separate leagues) found themselves competing against one another in the first official "World Series". And the rest is history.
On October 18, 1977, in the sixth game of the World Series against the Los Angeles Dodgers, New York Yankees outfielder, Reggie Jackson hits three home runs in a row off of three consecutive pitches from three different pitchers. Only the great Babe Ruth had ever hit three homers in a single World Series game (and he did it twice, once in 1926 and once in 1928) —but he didn't do it on consecutive pitches or even consecutive at-bats. Watch the video below to see an amazing feat of hitting. It is truly worth your time. I watched it live cheering as an "out of my mind" 16-year-old. My baseball hero was on the world's biggest stage. Yankee stadium. The house that Babe Ruth built.
Still, after his power display, Jackson was uncharacteristically modest. "Babe Ruth was great," he said. "I'm just lucky."
But that is only part of the story behind Reggie Jackson being named "Mr. October" by sportscasters and fans alike.
"I don't mind getting beaten, but I hate to lose." –Reggie Jackson

Over a 21 year career, Jackson batted .263 in the regular season with 563 HR with a .490 slugging. In the playoffs, his batting average improved to .278 with a .527 slugging. But on the biggest stage, in 5 world series Jackson batted .357 with an unbelievable .755 slugging. He owns the record for slugging average the .755 in world series play.
To put his October accomplishments into context. Against the best pitching that year, Reggie raised his batting average by an unheard-of 79 points and his slugging percentage by a colossal 228 points. Reggie Jackson epitomized mental excellence for his achievements against the toughest competition and the most brutal critiques, under the harshest lights and on the biggest stage, the world of sports could offer.
Reggie was the embodiment of complexity in the competitor's hard shell. "Please God, let me hit one. I'll tell everybody you did it," he recounted in an interview.
In boyhood terms, Reggie was my hero. An icon. He was the larger-than-life figure that I prayed to emulate on the diamond. Every morning I would run to get the newspaper to see the box scores from the day before. What had Reggie done? Had he hit a home run? I started following Reggie's exploits in 1969. I was 8.
1969 was a year that go down in annuals of history. Super Bowl III, in Miami's Orange Bowl, ended with the old AFL New York Jets beating the highly favored Baltimore Colts, 16-7. My football icon was the MVP of that Super Bowl Joe WIlle Namath, the brash star from Alabama. I modeled my tenure "under center" after Namath. The Beatles perform their last live gig. Walt Disney World construction begins at Bay Lake and Lake Buena Vista, Florida. On June 14th, Oakland As' slugger Reggie Jackson gets 10 RBIs to beat Red Sox 21-7. And on July 21st, I watched a black and white TV as Apollo 11 astronaut Neil Armstrong becomes the first person to step on the Moon at 2:56:15 AM (GMT).
As I said, 1969 was a big year.
For 20 more years, with a little boy's wide-eyed devotion, I watched my baseball hero light up newsreels and sports highlights. Beyond the diamond, Reggie was a polarizing figure in the 1970s, as he refused to shy away from the race issues facing America. Outspoken he drew boos from fans as a lightning rod for change. "The only difference between me and those other great Yankees is my skin color," he proclaimed in a New York interview.
"Fans don't boo nobodies." –Reggie Jackson

A tall lanky kid, baseball was not my best sport. I was good, but not good enough. Football and basketball pulled me forward in sports and life. But I never lost sight of my hero basking in the limelight. He often led the league in strike-outs, home runs, and home runs hit out off the stadium.
Bob Marshall said: "Just as nature fills a vacuum, Reggie fills a spotlight."
Outspoken and charismatic, Reggie Jackson was never afraid to speak his mind. He was good – very good, and he knew it. In 1973, as a member of the Oakland Athletics, Jackson said that if he was playing in New York, they would name a candy bar after him. Within five years, those words came true. But in the 1977 World Series, Jackson silenced his critics for once and all. On that day in 1977, Reggie was celebrated by fans lofting his candy bars onto the field as they chanted, "Reggie, Reggie".
Reggie Jackson's plague in Cooperstown says it all. Reginald Martinez Jackson. "Mr. October."
Until next time. Safe travels.