Inflation.
When the general price level rises, each unit of currency buys fewer goods and services; consequently, inflation corresponds to a reduction in the purchasing power of money.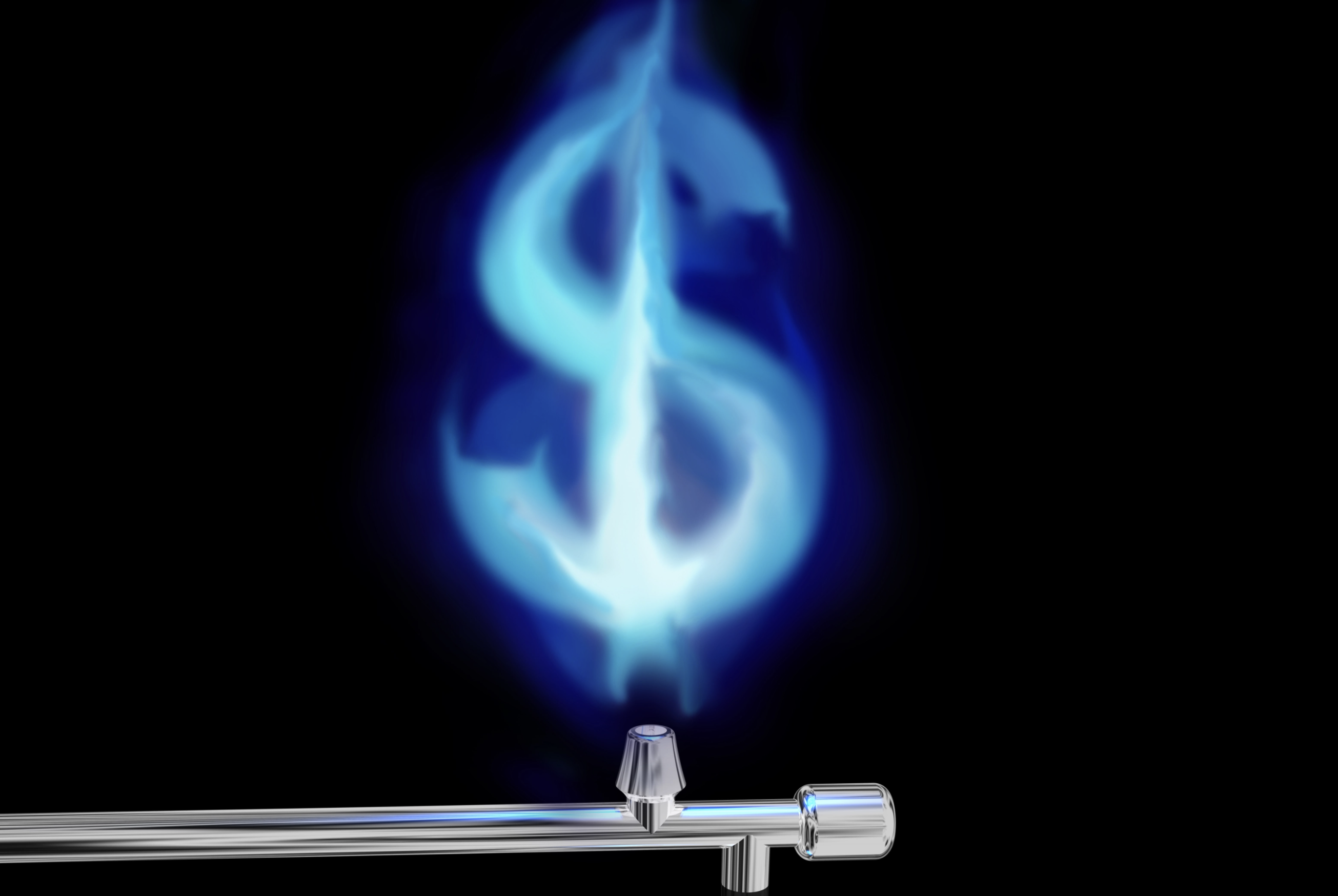 We are all experimenting with reality. Trying to gauge the next curve in life's seemingly vicious vicissitudes. But reality can be stubborn. Intransigent to our whims, preferences, or delights. Take the debate over inflation. The issue of inflation is such a weighty matter as to merit serious debate.
Is inflation back? Or not? Whose fault is it? Is President Biden to blame? Or President Trump? Is the price rises a reflection of policy initiatives or simple scarcity? How did our "inside the Beltway" wizards of public policy miss the warning signs?
Without sparking an ideological squabble, I believe we can all agree that energy prices are nestled in the costs of most everything. At the bare minimum raw materials, intermediate products, and consumer goods have to be transported. Not to mention energy costs associated with manufacturing. Higher energy prices mean higher costs of production and transportation. Producers and manufacturers will attempt to pass on the price increases to the consumer. Meaning you and I will pay more at the point of sale.
So together, without partisan rancor let's examine the charts of crude oil and natural gas prices.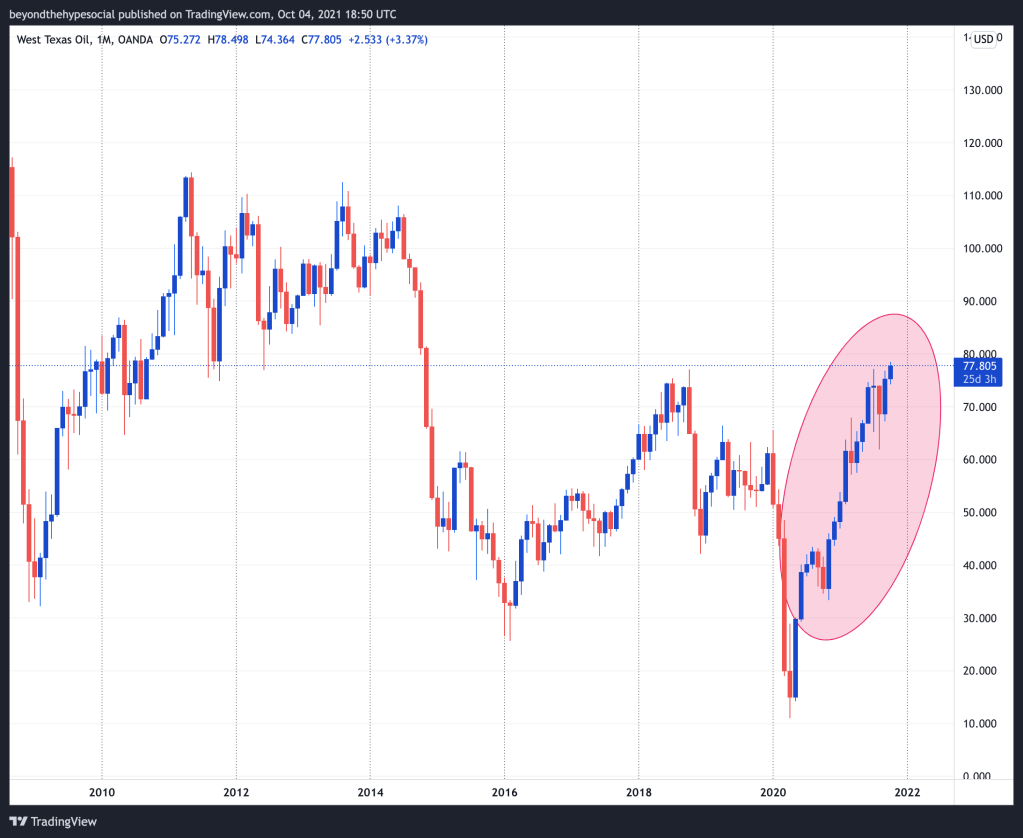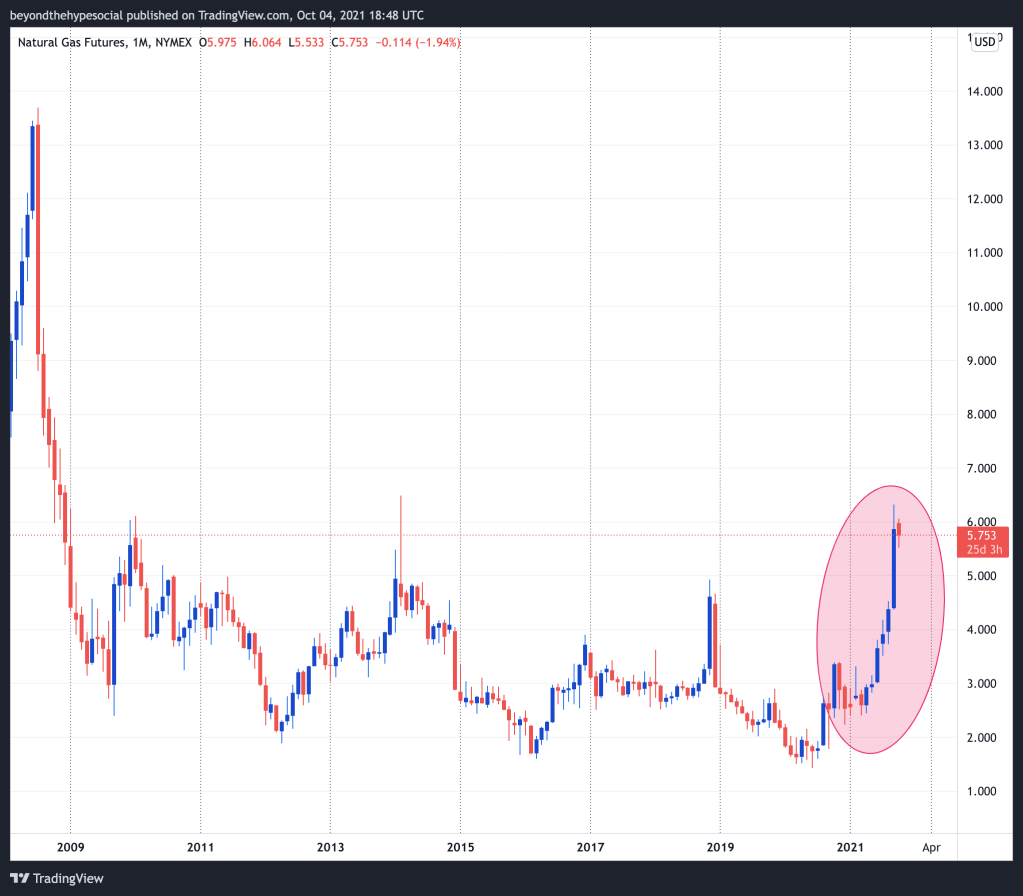 With two more charts below, I construct an interesting correlation for every politician to ponder. Be careful, national mid-term elections are next year. To quote one of my favorite political partisans the "Ragin' Cajun", Democratic strategist Chester "James" Carville Jr., "It's the economy stupid." Pumping their own gas, voters get the brutal reality of higher energy prices. Higher electric bills add to the shock and awe of rising energy prices.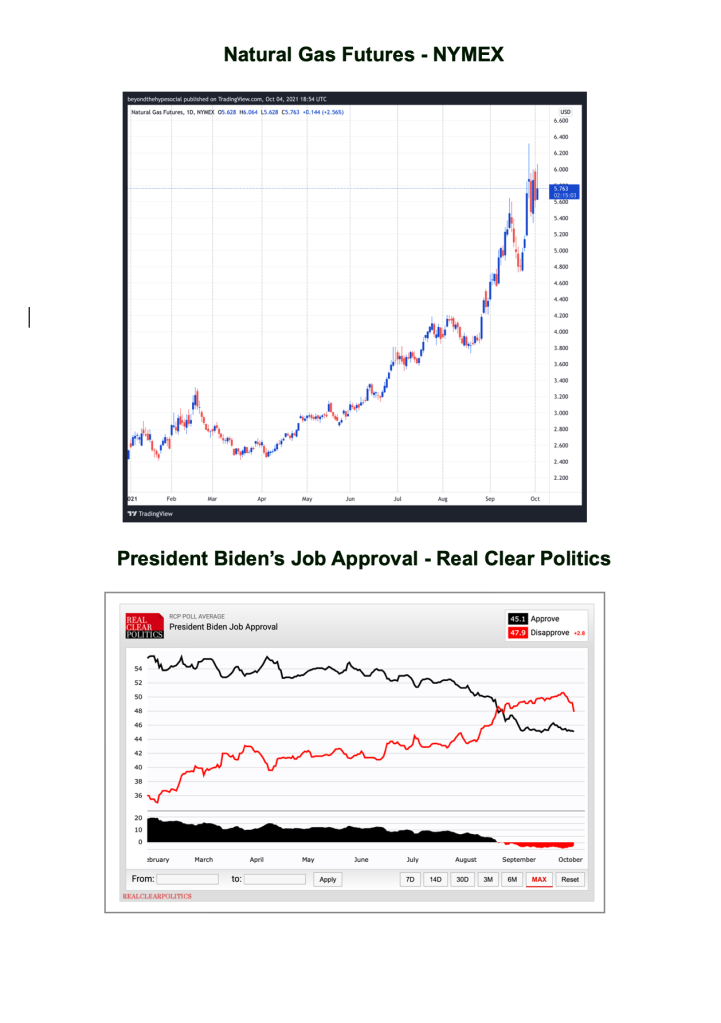 The spike in energy prices is not endemic to just the US. It's global.
According to the Financial Times' David Sheppard and Neil Hume, "Prices for liquefied natural gas (LNG) cargoes, the main source of competition between Europe and Asia for gas flows, hit a record high on 10/4 in Asia @ $34.47 per million British Thermal Units as buyers scrambled to secure shipments with China experiencing widespread power generation problems due to a shortage of coal." Ouch!
It has been reported that the natural gas crunch hitting the UK and Europe is likely to intensify after China ordered state-backed companies to secure energy supplies, no matter the cost.
In response to the crisis, the Red Chinese government in Beijing is closing its ranks. Premier Li Keqiang is quoted as saying "the country will secure its energy and power supplies following a series of blackouts and shortages that have forced a large number of companies to restrict output."
A word of warning, wars have been and will be fought over people freezing in the dark.
Allow me to circle back to our inflation discussion Sustained higher energy prices are inflationary. No debate is required. I will save the explanations for the hockey stick rise in natural gas prices for a later post. I like to leave my audience wanting more.
For the record, I am for a calibrated shift to sustainable, renewable energy. In my mind, clean air and water for the human race is an issue without borders, nationality or ideology. That being said, our leaders cannot wish or decree our way to a greener future.
On a bright note, we observed signs of a let-up in price pressures on both Natural Gas (@ $6.30) and Crude (@$79.08) as of 10/8/2021. Without disclosing our sources and methods, we expect a little softening in prices over the near term.
Oh and…..it's just not me sounding the alarm about inflation.
"In my view, that balance of risks is currently shifting towards great concern about the inflation outlook, as the current strength of inflation looks set to prove more long-lasting than originally anticipated," said Huw Pill, Bank of England's chief economist.
Isabel Schnabel, member of the ECB's executive board. "It would be premature to assert that current price dynamics will fully subside next year," she said. "There are several sources of uncertainty that might entail more persistent inflationary pressures."
Carsten Brzeski, head of macro research at ING, said the ECB minutes signaled "a shift from a very benign assessment to one of more alertness and awareness that inflationary pressures might be less short-lived than initially thought".
Lastly, my favorite former Soviet jumped into the energy fray. "Let's think through possibly increasing supply in the market, only we need to do it carefully. Settle with Gazprom and talk it over," Vladimir Putin said. "This speculative craze doesn't do us any good." This is the same group of energy well-wishers, which Ukraine and other eastern European countries have accused of trying to "weaponize" gas supplies.