Bitcoin Fever.
Web3, short for web 3.0, is a vision of the future of the Internet in which people operate on decentralized, quasi-anonymous platforms, rather than depend on tech giants like Google, Facebook and Twitter.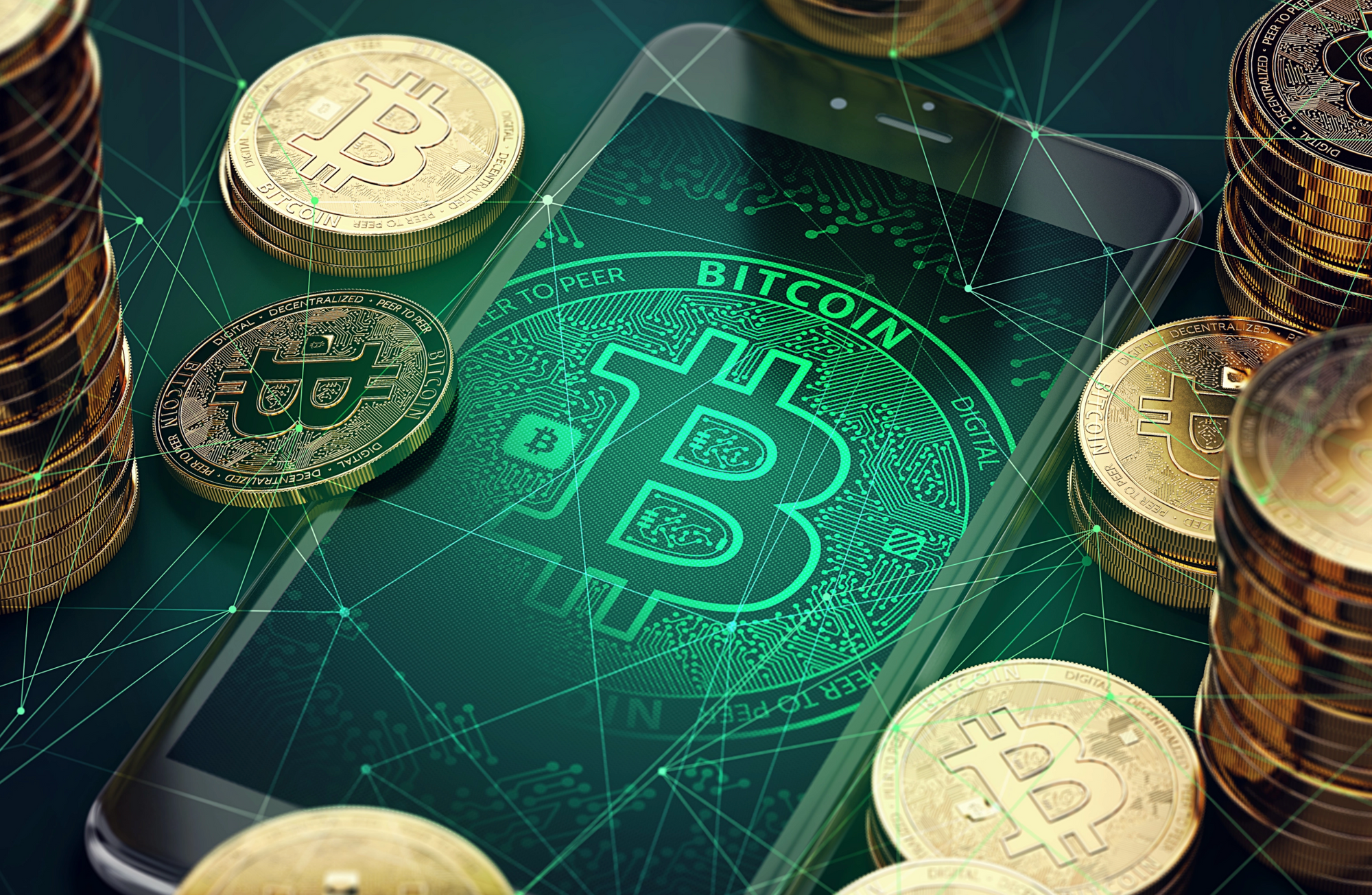 For the record, I am a huge fan of the future of web 3.0 and decentralized finance (DeFi). I won't claim to be an expert, I am not. Being a fan means I appreciate something or someone for added value to my life. I am not fanatical nor blind to the shortcomings of the next new, new thing. Therefore, I am not bashing nor endorsing crypto or Bitcoin, I am issuing a timely warning to those caught in the Bitcoin fever. "There is a bit of euphoria in the industry that we now have an ETF but it's the first step." Dave LaValle, global head of ETFs at Grayscale is quoted as saying in an FT.com article over the weekend.
Veteran traders watched the ProShares Bitcoin Strategy ETF (NYSEMKT:BITO) hit the market at Bitcoin's highest demand. Seeing investors speculating for weeks that crypto ETFs would bring new money into the industry is a warning sign regarding price. Not an indictment of the potentially game-changing technology. I, for one, see the market action as a little of "buy the rumor, sell the fact" for cryptocurrencies. Looking at the daily and weekly charts, I am a seller for the short term as of Thursday and Friday's close of business.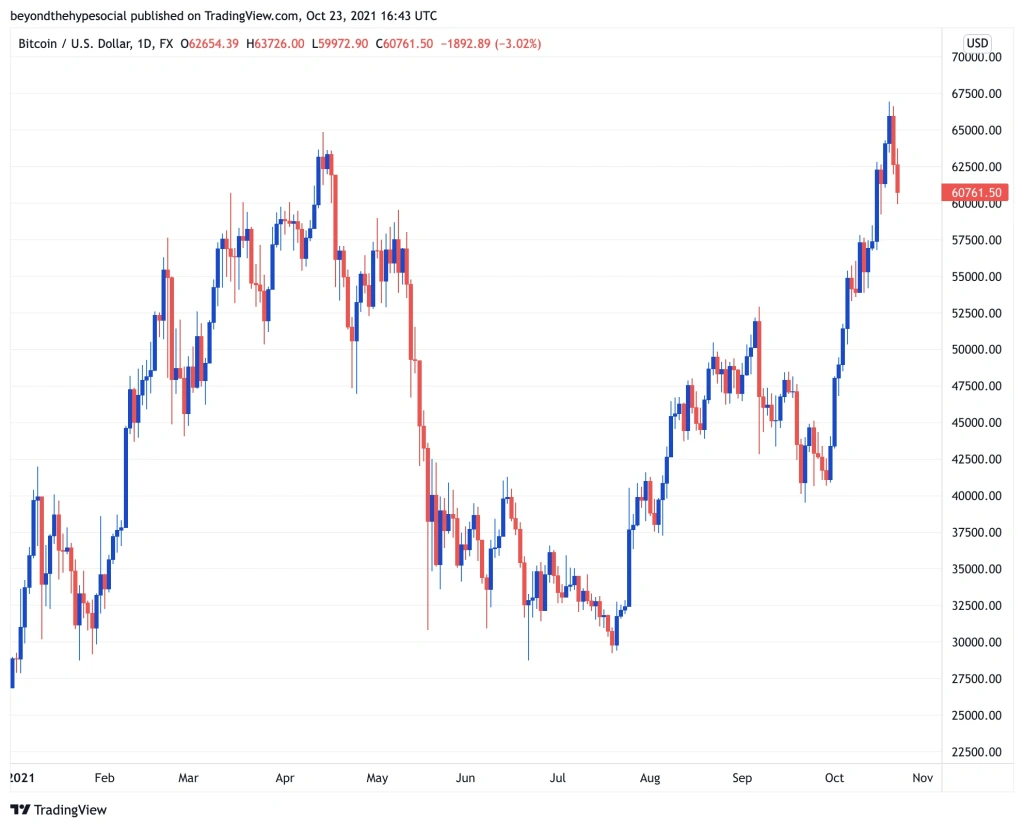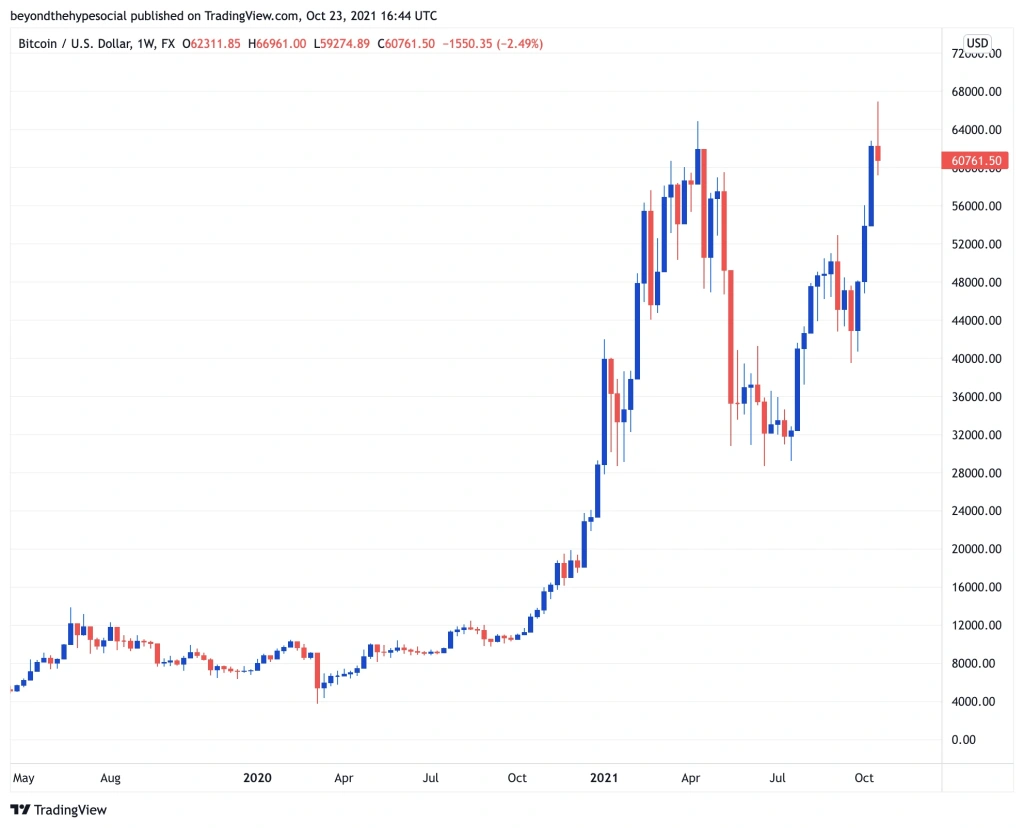 Only time will tell how web 3.0, Defi, and the cryptos will fair. In the short run, I am a seller of Bitcoin, not an active short from Thursday's close of business. I am not afraid of missing out by taking profits in Bitcoin or any of the other cryptos after Friday close on a weekly chart. Stay tuned.