Amazing in Red.
Alexandria Ocasio-Cortez, known as AOC has served as the U.S. Representative for New York's 14th congressional district since 2019. Her district includes the eastern part of the Bronx, portions of north-central Queens, and Rikers Island in New York City.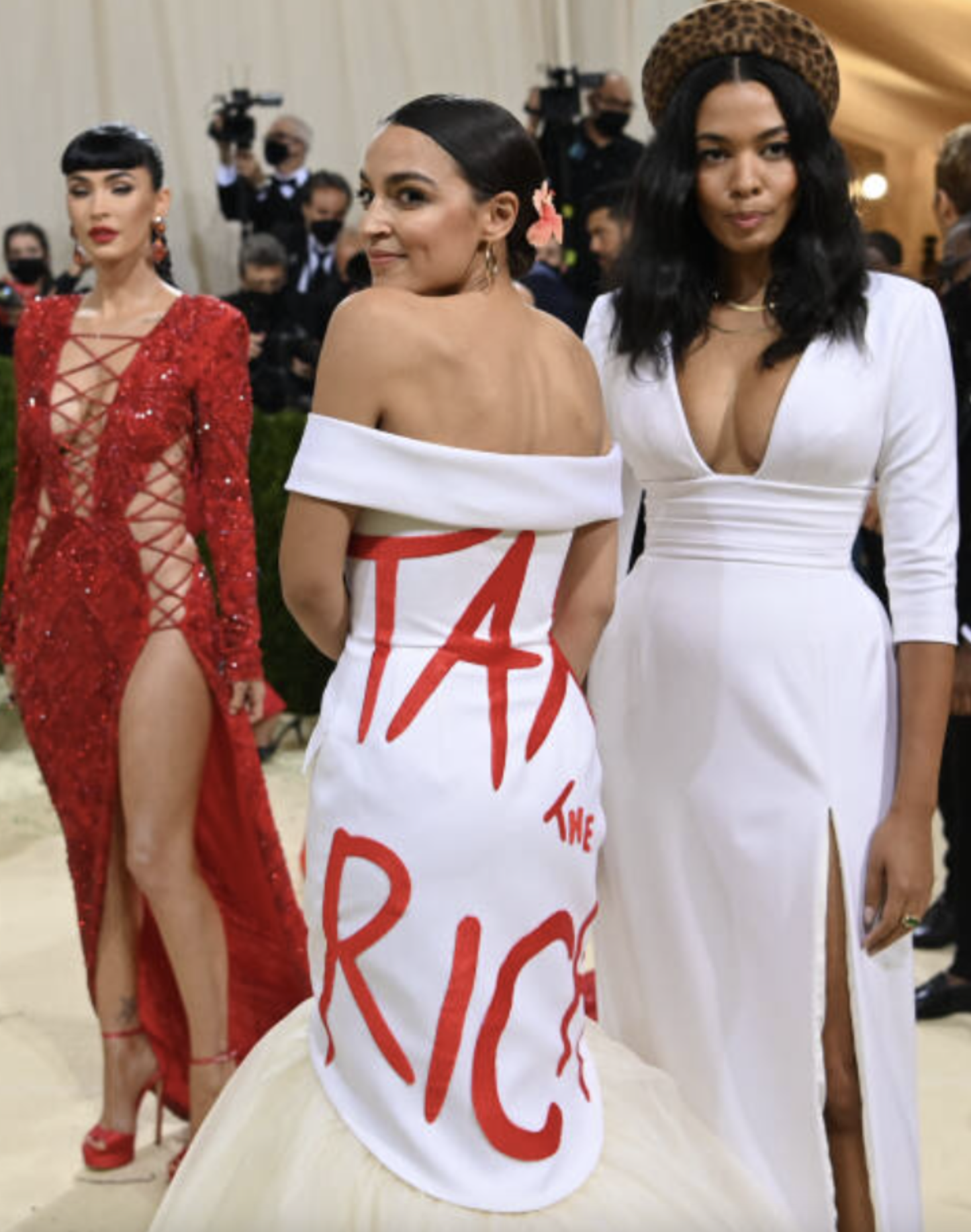 Fighting the urge to be political, I still find myself scratching my head at those who choose to lead us. And, yes by media standards the AOC dress scandal and the attending uproar is juristically old news. Being older and I trust wiser, I take my time to aim before firing. I like to let stories marinate a little.
I am not sure which is in poorer taste, the dress or the talking heads pretending to savage AOC's wardrobe faux pas.
Unfortunately, my eyes moved from Ms. Ocasio-Cortez's curious attempt to engage me, to the half-naked vixen in the red dress behind her. Who is that engaging creature?
I mean seriously! The Congresswoman from New York should be careful who she poses with at the next gala.
"The medium is the message," AOC wrote on Instagram. "The time is now for childcare and climate action for all. Tax the Rich."
According to numerous media outlets the narrative surrounding Ms. Cortez's stunt proved predictably cliche. "AOC's dress instead became a focal point for the ire of the right. Conservatives argued it was hypocritical to mingle with the economic elite while denouncing them. AOC suggested that the criticism is an example of American culture being "deeply disdainful and unsupportive of women, especially women of color and working-class women."
Hmm.
The Congresswoman's messaging went from the "medium is the message". Okay. I like simple. To her stunt's blowback is an example of American culture being "deeply disdainful and unsupportive of women…". I feel as though I missed the ideological onramp to another debate. Oops. I will have to check my Google maps. Or maybe I should get an Instagram account to enrich my cultural awareness.
For the record, I am completely supportive of any Congresswoman/economist, who looks that good in a white dress splashed with red paint. AOC, I am a fan. As far as the goddess in the red dress flaunting her curves bookending the Congresswoman, is she wearing a wedding ring? Inquiring minds want to know.