Crypto Lab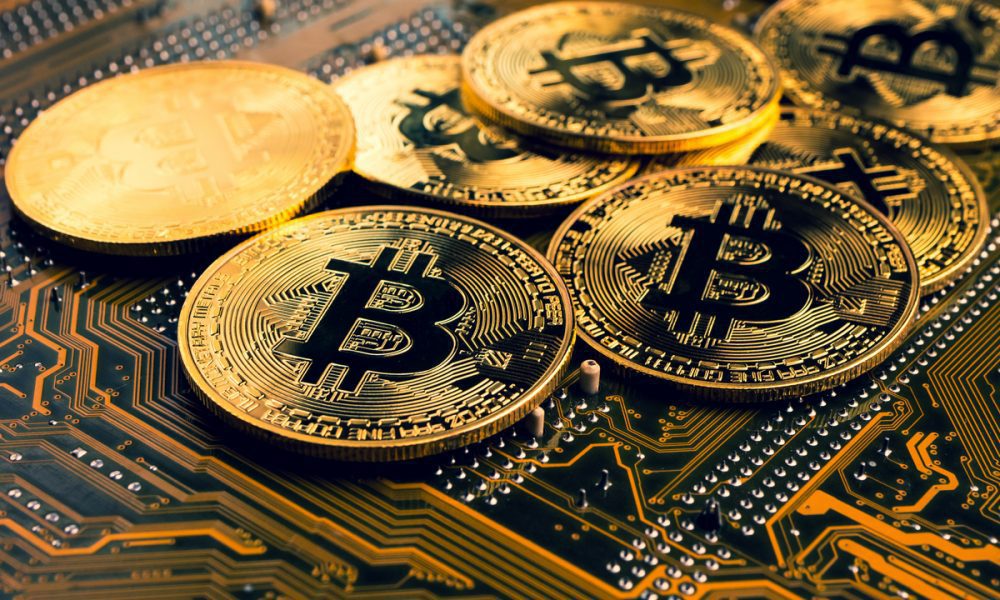 Beyond the Hype is a site dedicated to looking at the news, media, and culture through a cultivated awareness.  Our CryptoCurrency Lab is one way of testing our theories in the real world with dollars and cents feedback. A very bottom-line approach to a social science lab.
Given the dramatic moves in Bitcoin over the last several months, we decided to add a dedicated section to our website to focus on Bitcoin and the other cryptocurrencies while fielding your questions.
At Beyond the Hype, we take no position in our lab's study subjects to maintain objectivity. However, some members of our team have significant positions in Bitcoin, cryptocurrencies, NFT's, and land in the Metaverse. To prevent conflicts, each writer will individually disclosure their positions, if they write about that asset.
Below is Bitcoin's action through 4 pm CST on Friday, December 17, 2021.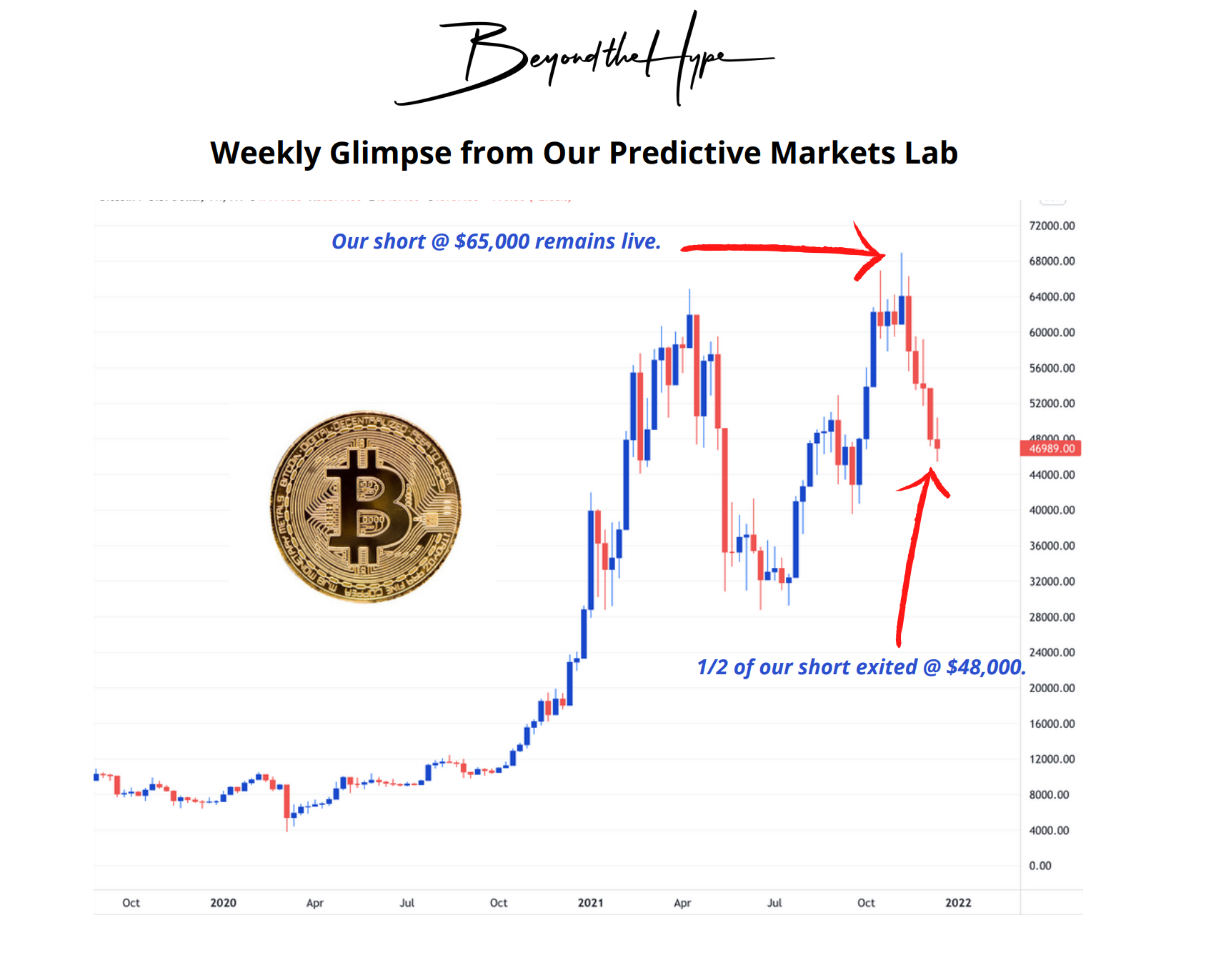 For those of you following our ideas, congratulations on the first leg of our journey. A $17,000 drop gets us to our first target. For those of you, who know my model this is target two. More on my model with the launch of Predictive Markets Lab.  
"Patience is not is passive, on the contrary, it is concentrated strength." -Bruce Lee.
In the shorter term, the potential exists for a serious bounce in Bitcoin. Again, I use the word potential. I need to see the market action on Monday (12-20-21). I would seriously consider avoiding the low-volume, thin trading action over the weekend.
To get updates as I post,  please hit the subscribe button.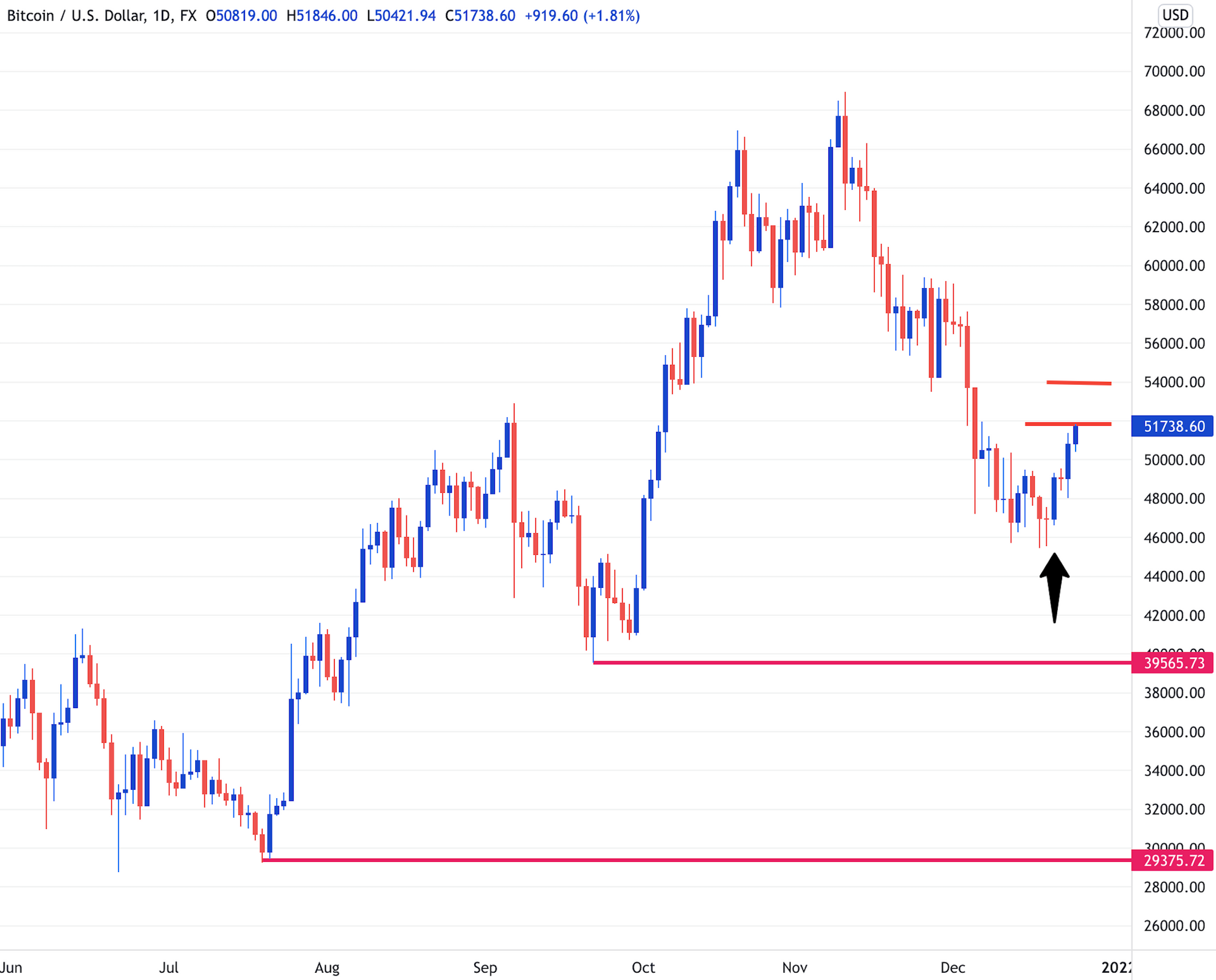 As I suggested above the market action in Bitcoin on Monday (12-20-2021) gave us the signal for a bounce. For a bounce buy $47,100 for a move to at least $51,700. I expect higher at $54,000 before selling pressure might re-emerge.  Take off half of your long here @ $51,700 for + $4,600. Hold long, stop $49,000.  
If you don't want to play the bounce, then hold short from $65,000 (50% position). Expect a countermove to at least $51,700 (here). I anticipate higher @ $54,000 but if the down pressure is persistent then $51,700 is resistance.  I will comment again on New Year's Eve to finish 2021.    
(Sunday 1-2-22) Obviously, Bitcoin did not continue its rise to $54,000. $51,700 was all the rally had in it. (see below). Monday 1-3-22 becomes another critical juncture in Bitcoin's prospects.  Substantial new lows mean a likely attack of $40,000. However, if Bitcoin rallies from here, a bounce becomes a likely trading range bounded by here at $45,800 and the highs a $68,000. I will be watching the action on Monday very closely. You should too.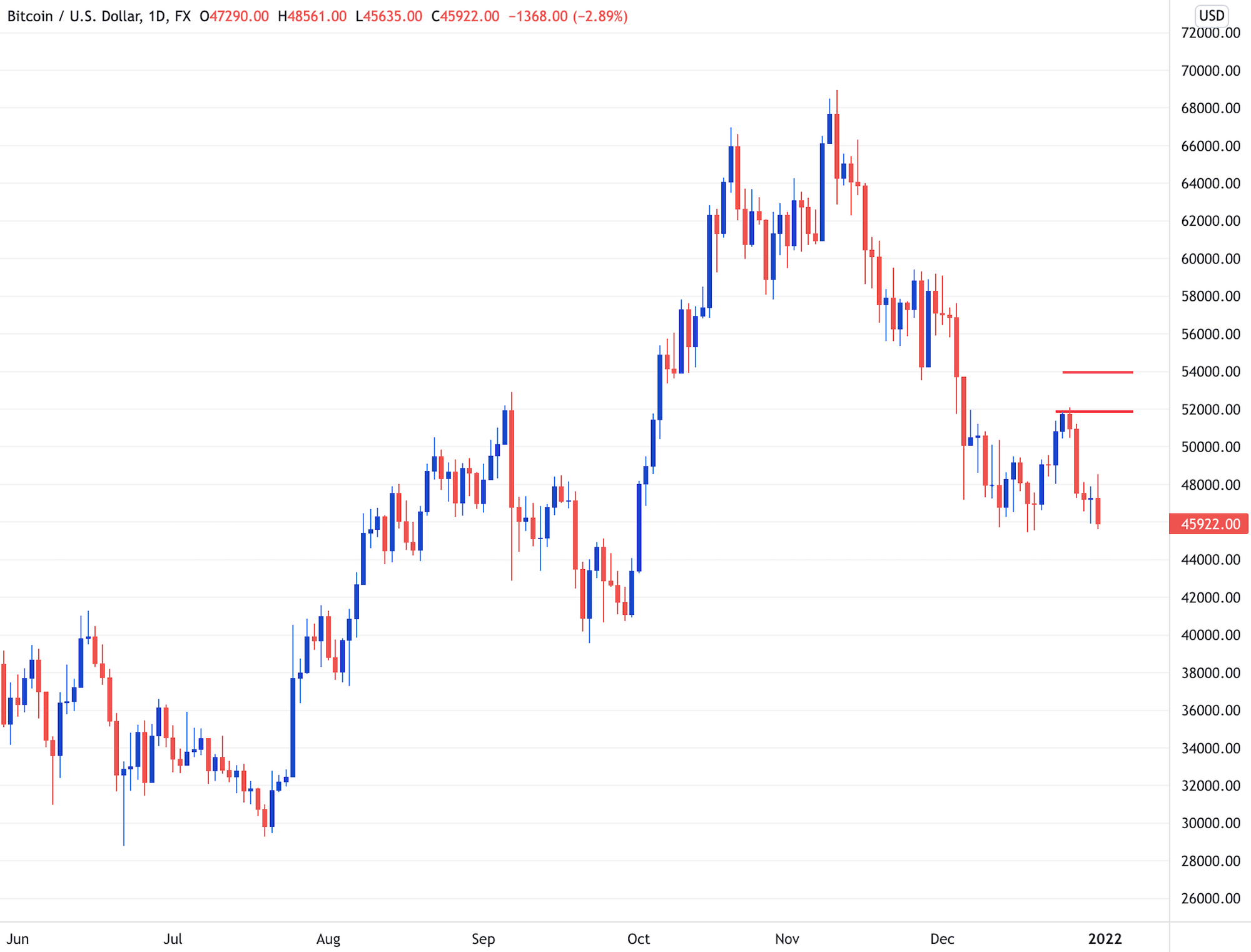 (Sunday 1-9-22) Another disappointing week for Bitcoin bulls. The action never turned positive on Monday. Accordingly, I am watching the action around $39,620 very carefully. Beyond that around $29,345. Neither of these numbers is hard and fast, however, per our model, it becomes Bitcoin's most likely landing spot. Maintain short of $65,000 (50% position) until more than a bounce can be confirmed.  Stay tuned, I will come back to you next weekend.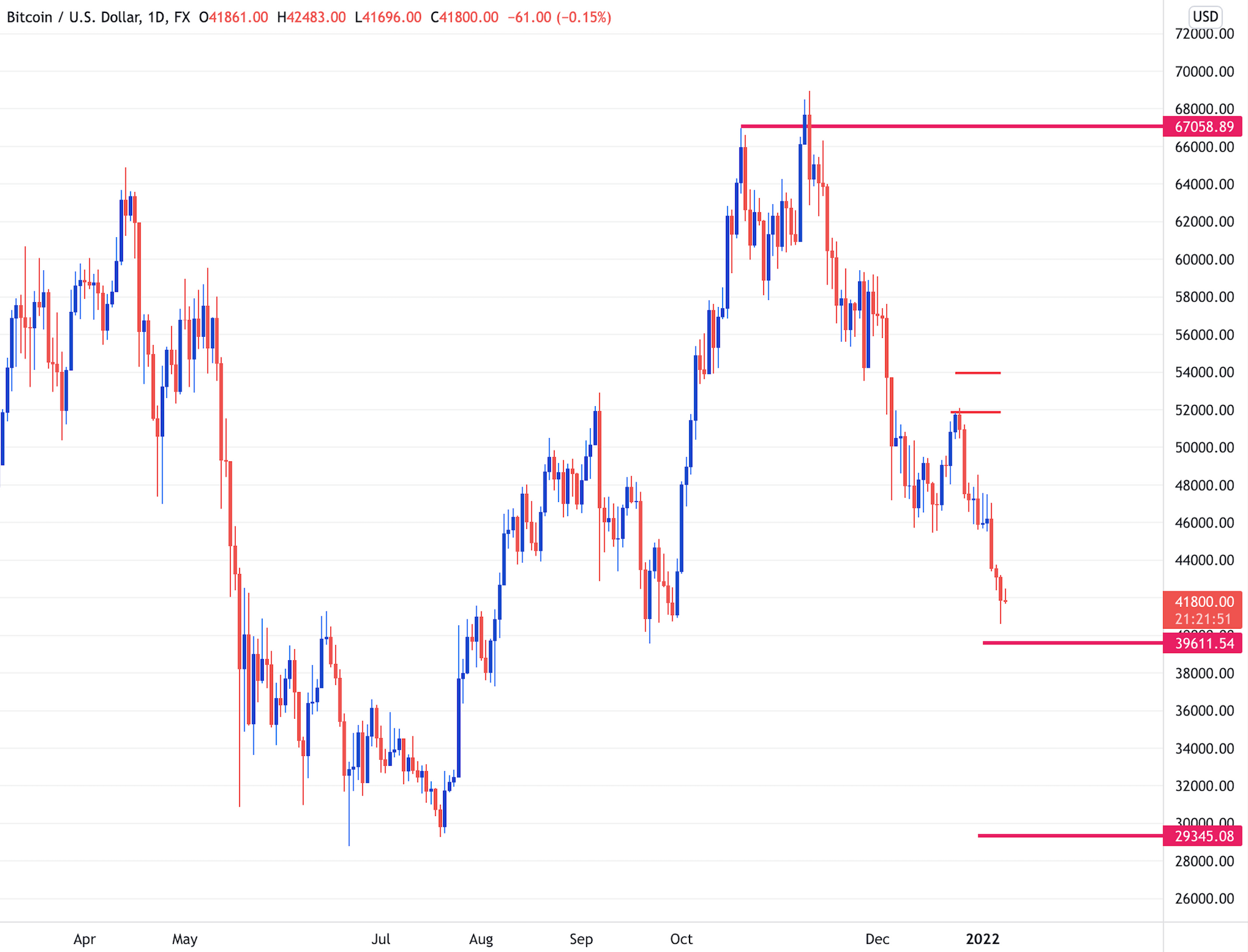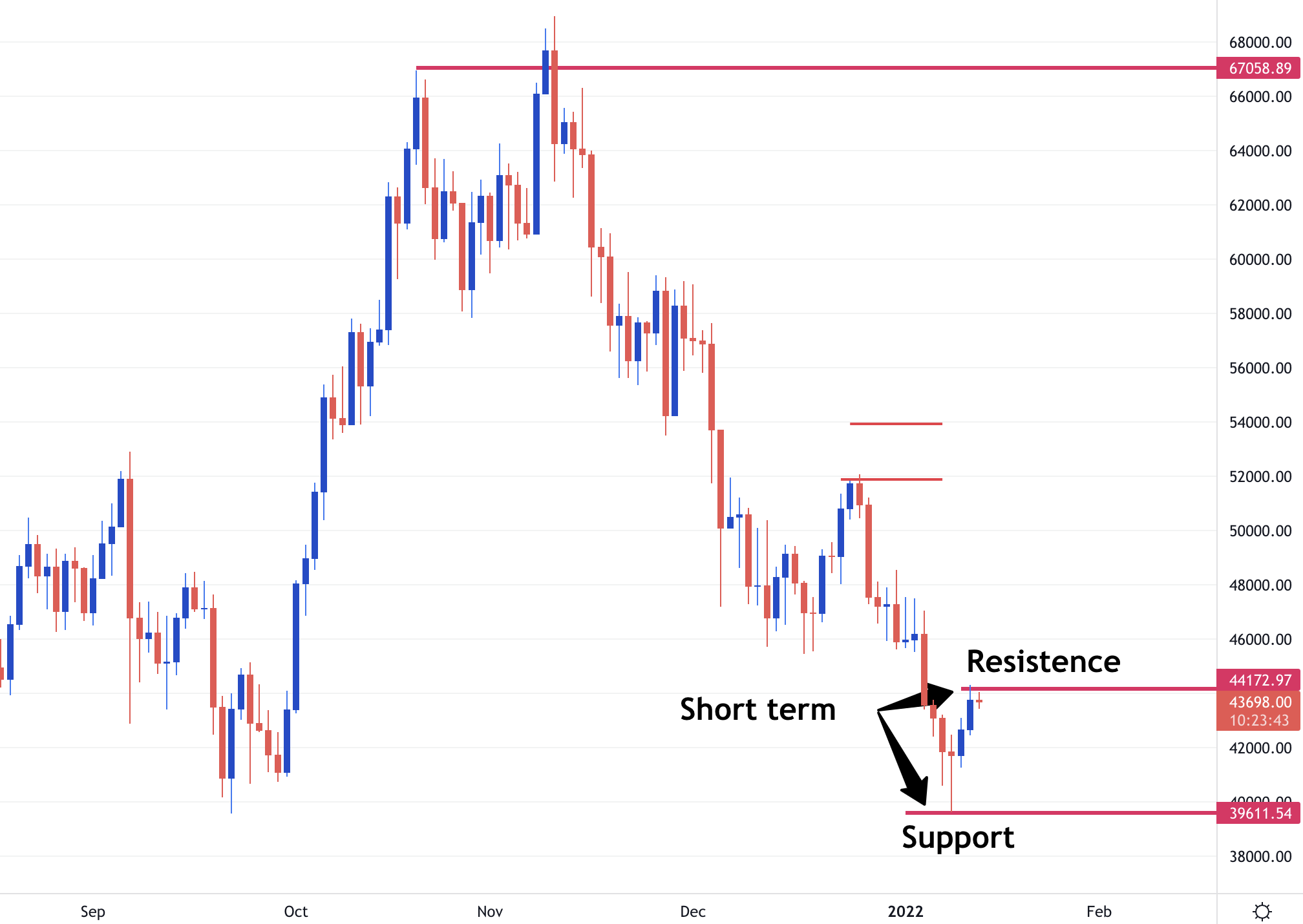 (Thursday 1-13-2022) Updated early this week as Bitcoin hit support and bounced and hit resistance in the span of three days. Barring big news, Bitcoin should be range-bound for the short term. A sustained breakout above the resistance of $44,100 would be very good news for the longs. A test of the lows at $39,650 with the right signal, we would suggest exiting $65,000 short, going from negative to neutral on our outlook. A failure @$39,650 support is not good.
As always, we will read the price action as it comes. We don't have a crystal ball, we only read the crowd's sentiment as expressed in price signals.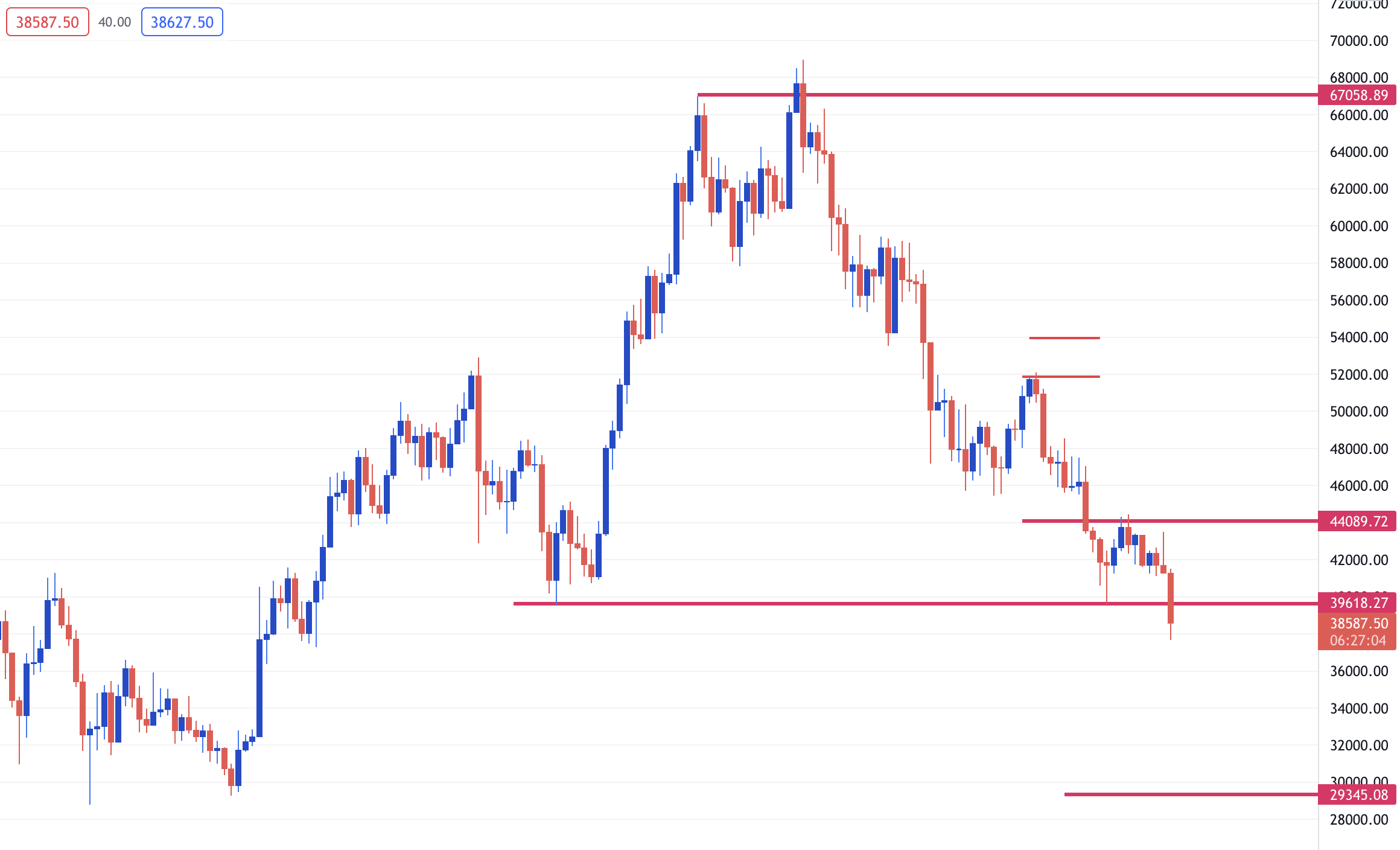 (Friday 1-21-2022 - 15:36 UTC) A test of the $39,650 low has NOT produced a good buy signal. Our short remains intact $65,000 (50% position). Expect $29,345 unless matters change in the next several hours.
(Friday 1.28.2022 - 22:36 UTC) This week's price action per our crowd model is inconclusive. (see below) Our target of $29,345 was not reached. $32,939 appears to be near-term support. Expect $32,939 to be re-tested in the next couple of weeks. The price action of the re-test @ around $32,939 will be very informative as to Bitcoin's new range of trading. I am comfortable with taking off short positions from $65,000 to become flat, or no position. Our results from $65,000 short over almost four months:
50% of short position off +$17,000 Exit @$48,000
50% of short position off +$32,000 Exit @$33,000 to close position.
We achieved 90% of our target. Now adopt a wait-and-see attitude. I will be writing "What's Next for Bitcoin" over the weekend for publishing next week.
Again. I have no position in Bitcoin. I am flat.  My "crowd" model is designed to be applied to any trading market. Our short of Bitcoin at $65,00o reflects only "crowd" price action, not a commentary on Bitcoin's long-term viability as a technology.   Stay tuned.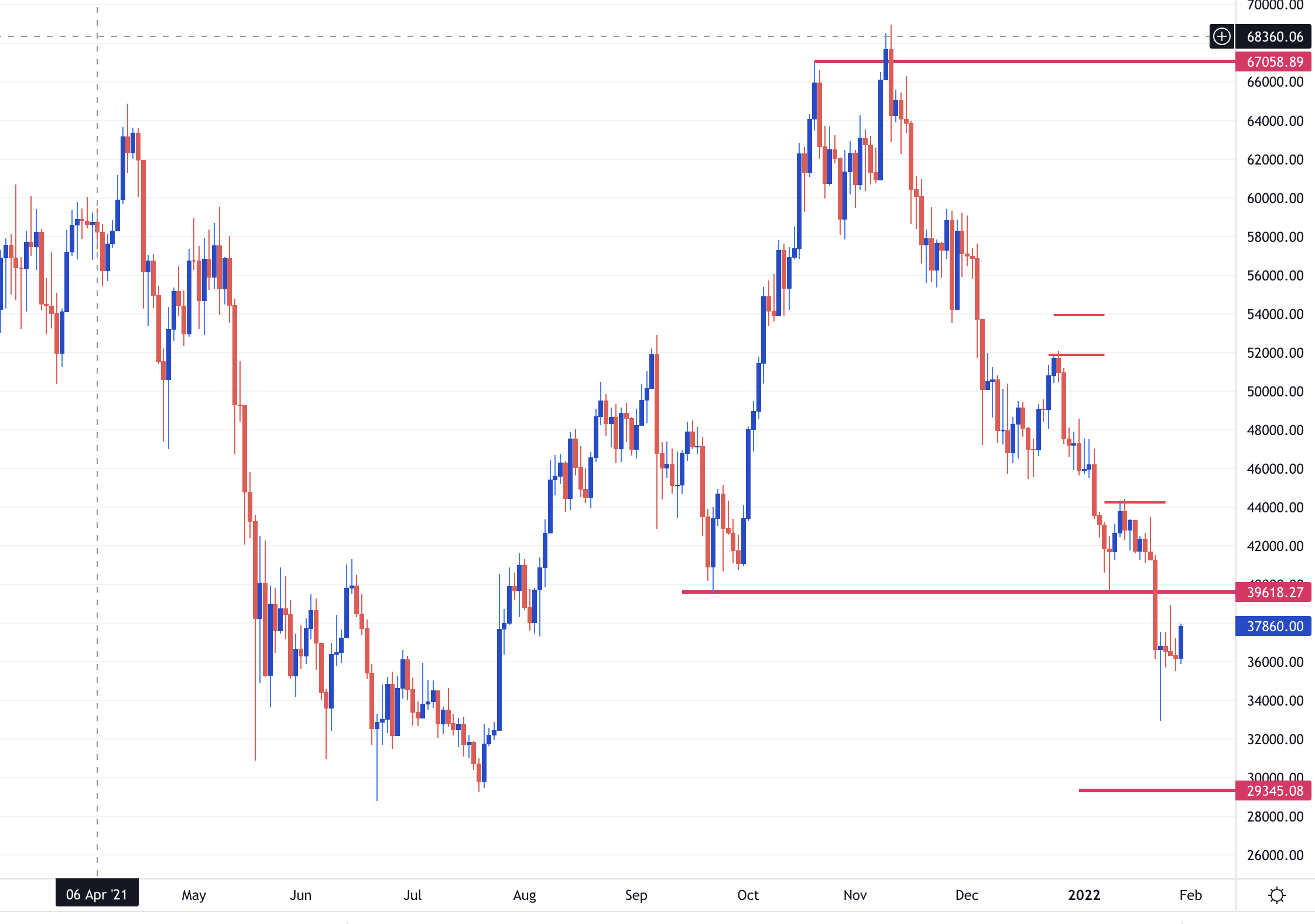 (Friday 2-11-2022 7:06 CST) I Tweeted this report via @robertqwatson61
Selling @ $44,300 #BTC  emerged as forecasted per "crowd" model. (see below Tweet) Price action dictates signals. Looking @$33,000 and  $29,300 as buy levels.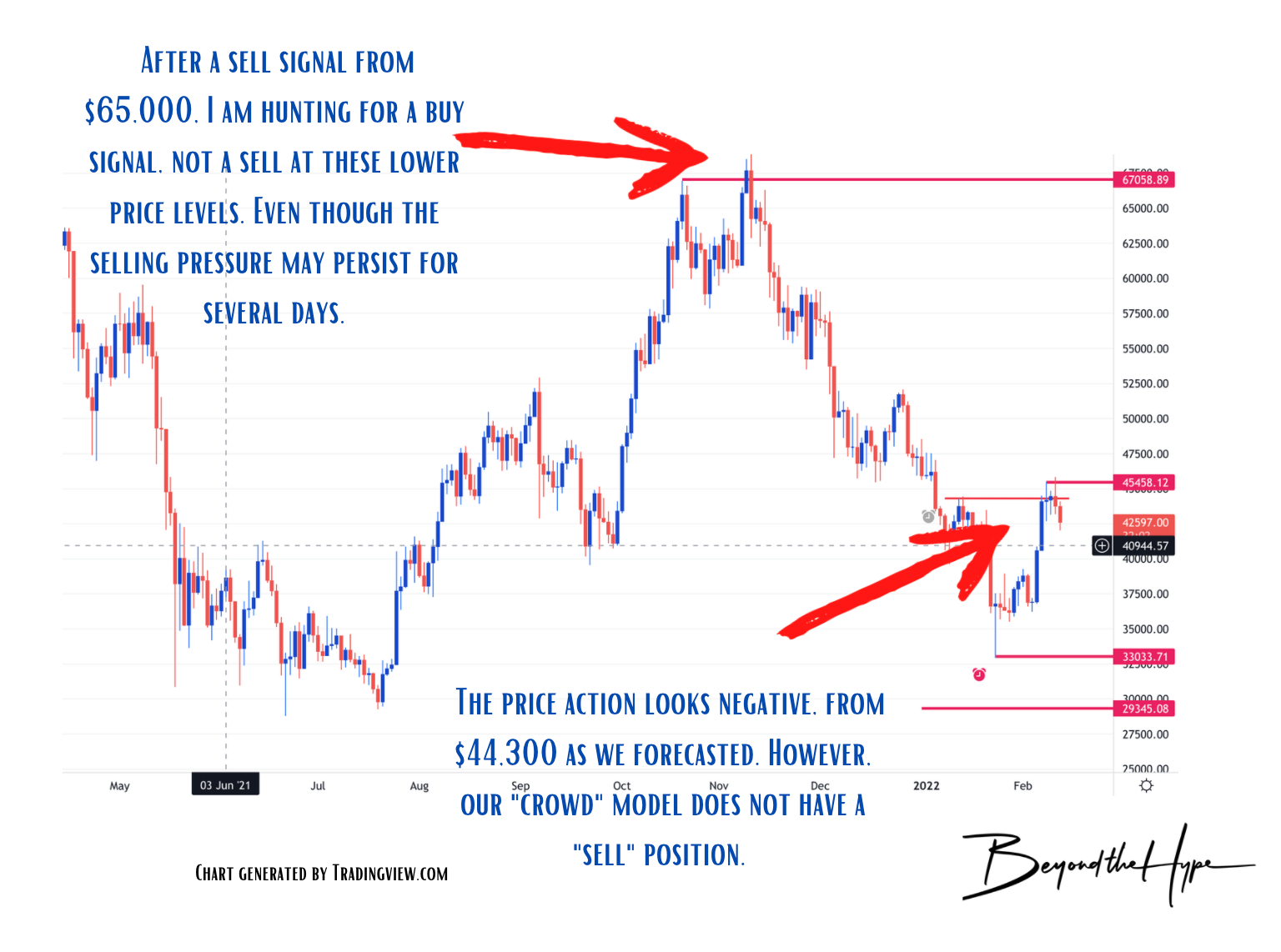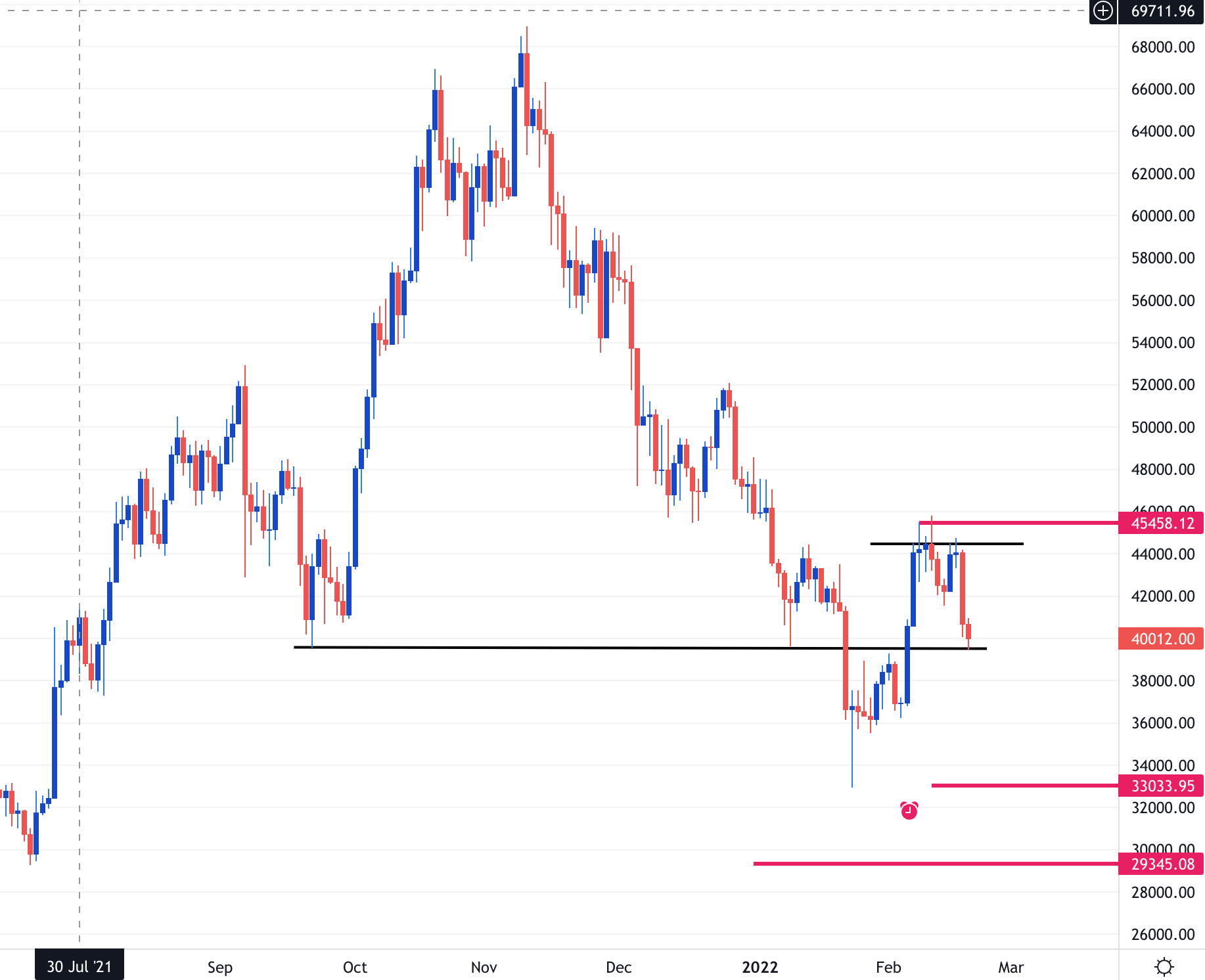 (Friday 2-18-2022 5:08 CST) I Tweeted this report via @robertqwatson61
Selling continued @ $44,300 #BTC as forecasted per "crowd" model. (see Tweet above) Price action dictates signals. Watch prices gravitate around $39,500. Looking @$33,000 and  $29,300 as buy levels. I prefer to be a buyer, not a seller. However, "crowd" price action dictates all signals.
(Thursday 3-3-2022) See chart below. Action remains inside selling @$44,300 and buying at $$34,500.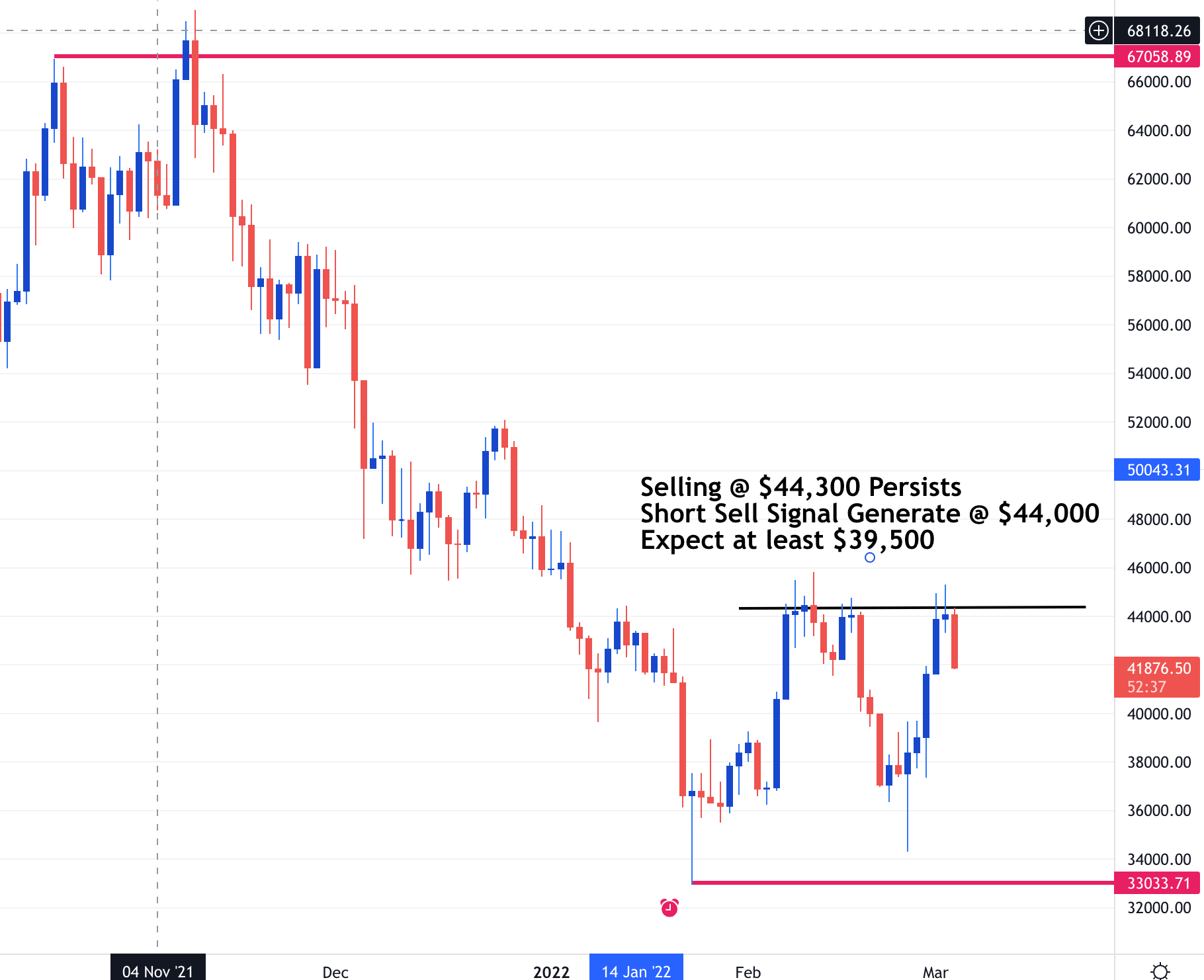 Sunday night 3-27-2022 - Price action in Bitcoin is constructive and a potential breakout to the upside is indicated. Our model requires confirmation to $50,000 to confirm breakout status. chart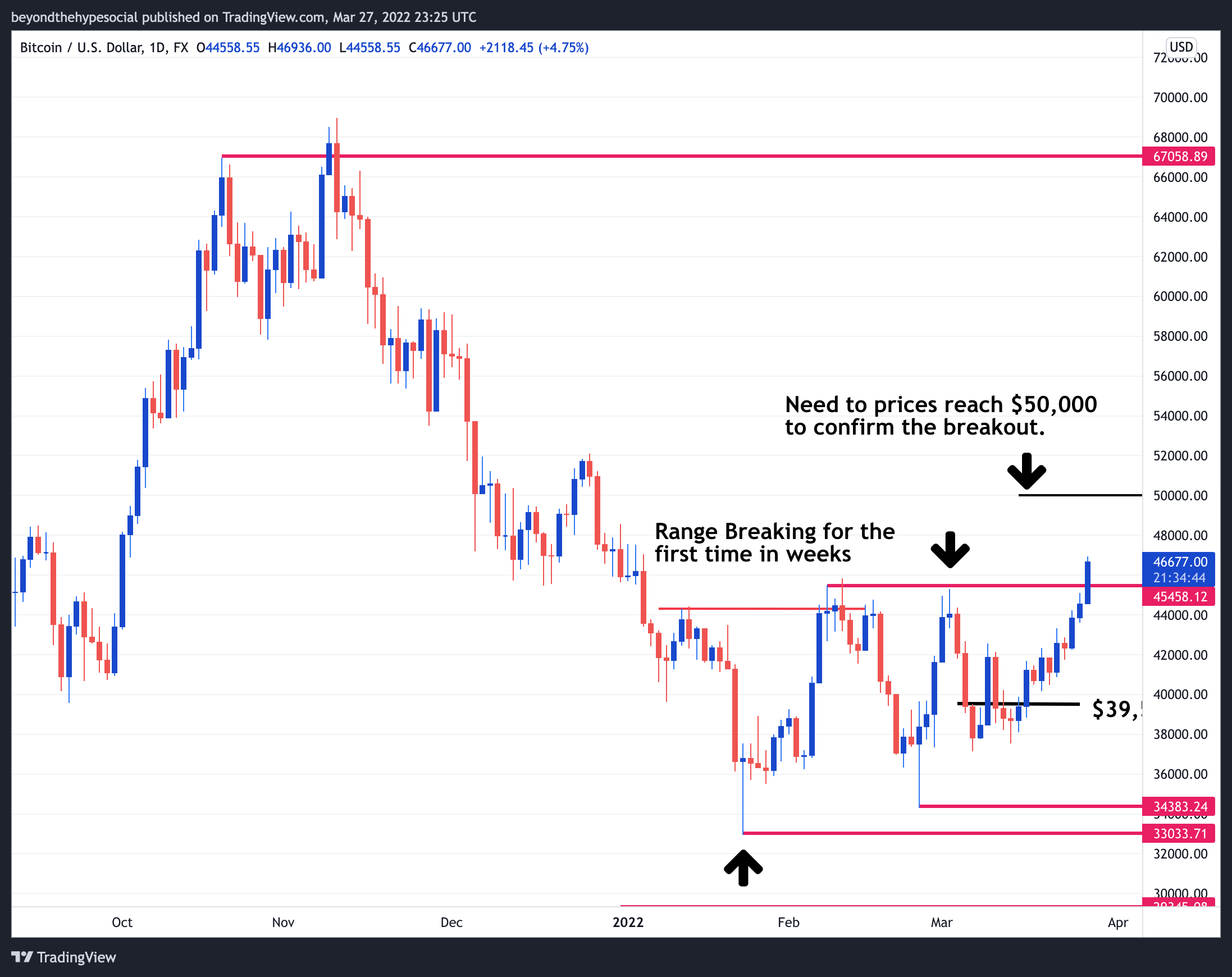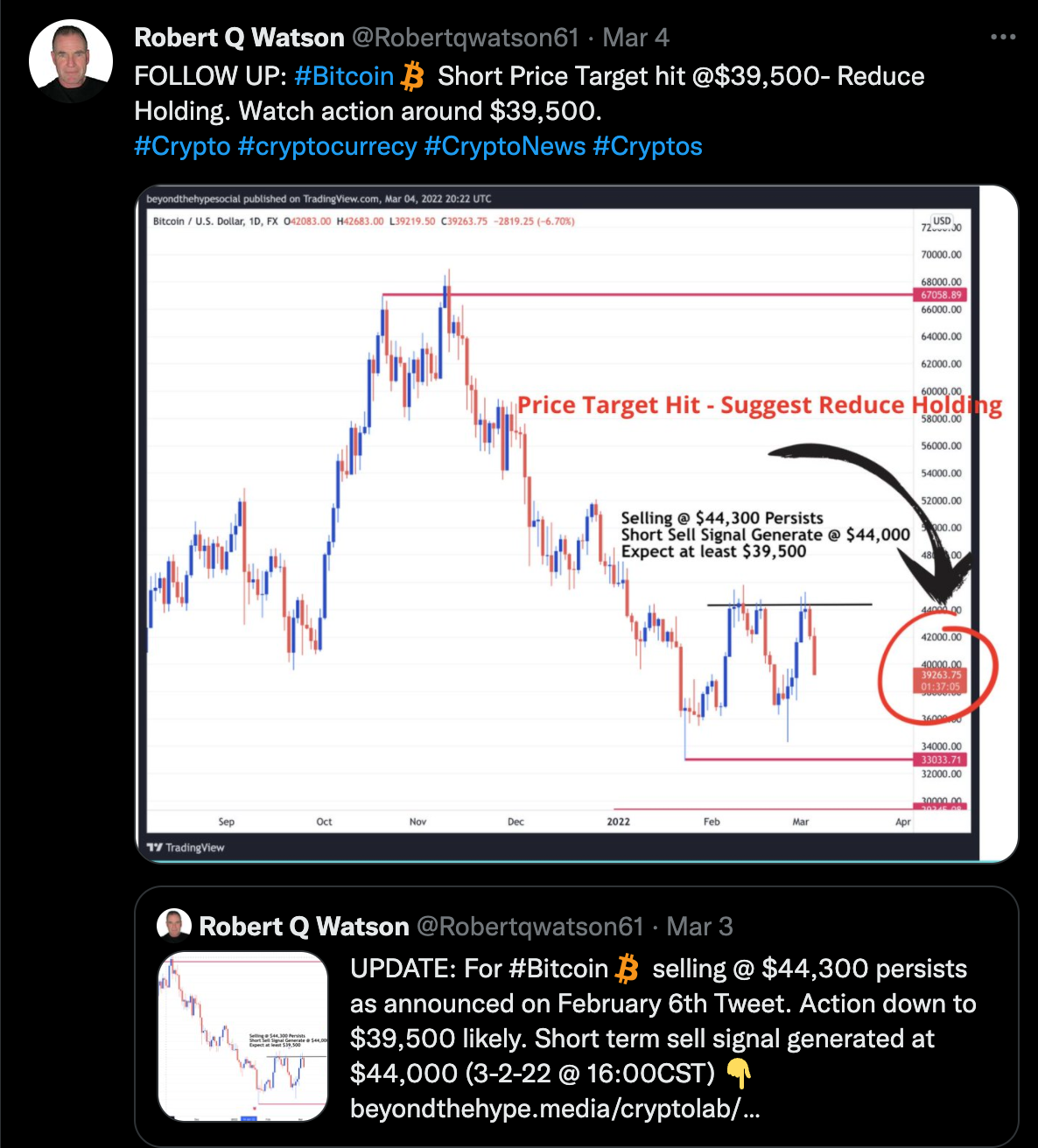 Please note the price action could not significantly penetrate $$39,500 on the downside. Very bullish short-term indication.
The next stop is likely to be $50,000 on the upside unless Sunday night's action reverses. Stay tuned.
3-31-2022 - Entering trading on Friday Bitcoin is suffering a false breakout. Stay tuned for more updates later tomorrow night.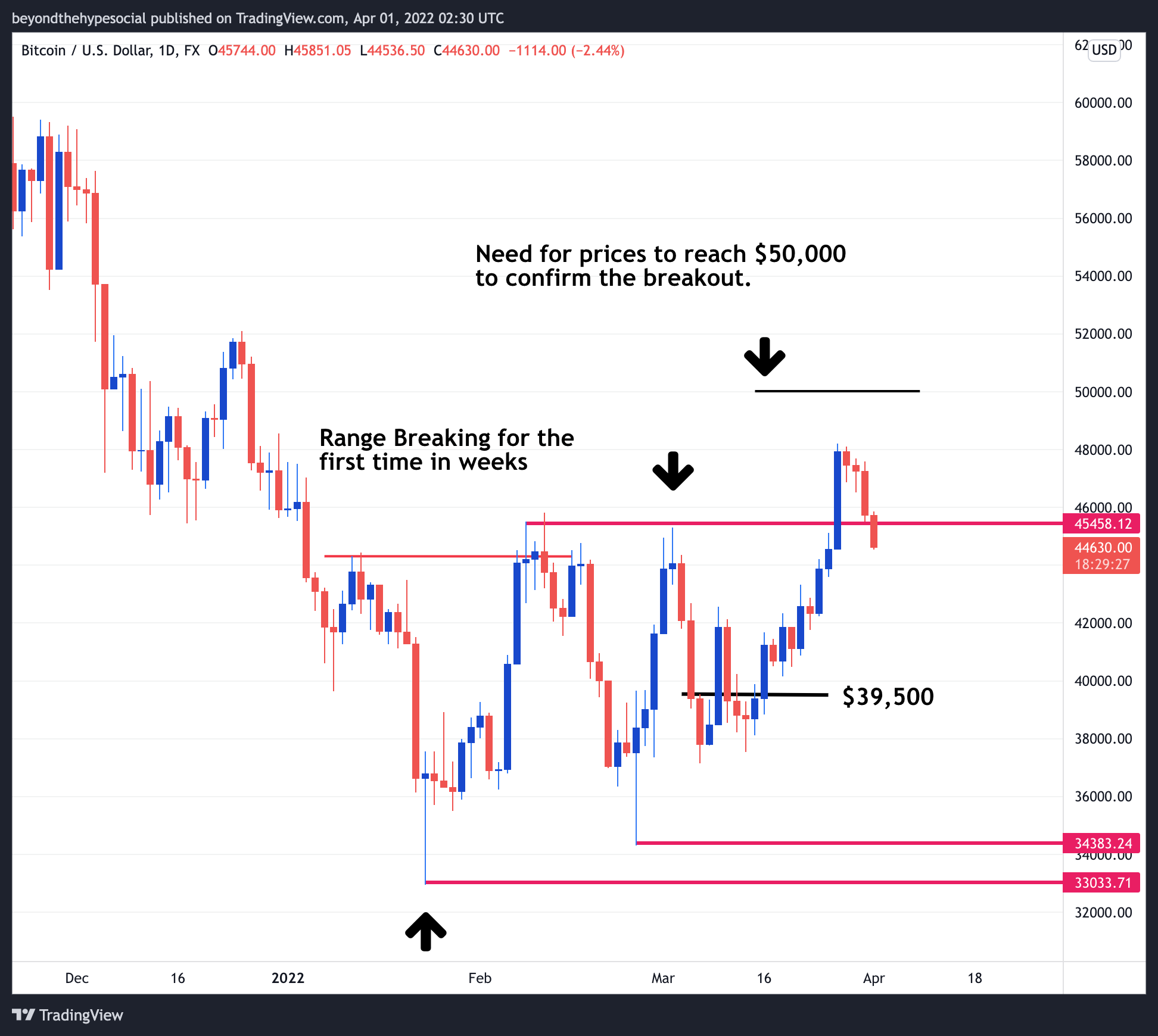 4-1-2022 midday update 1100 UTC 16:05 - the first bullish sign with BTC since the sell-off began back in 2021. If BTC closes here I am cautiously BULLISH. Not over the top bullish but bullish nonetheless. I am only updating the website. I will wait until Monday to update via Twitter.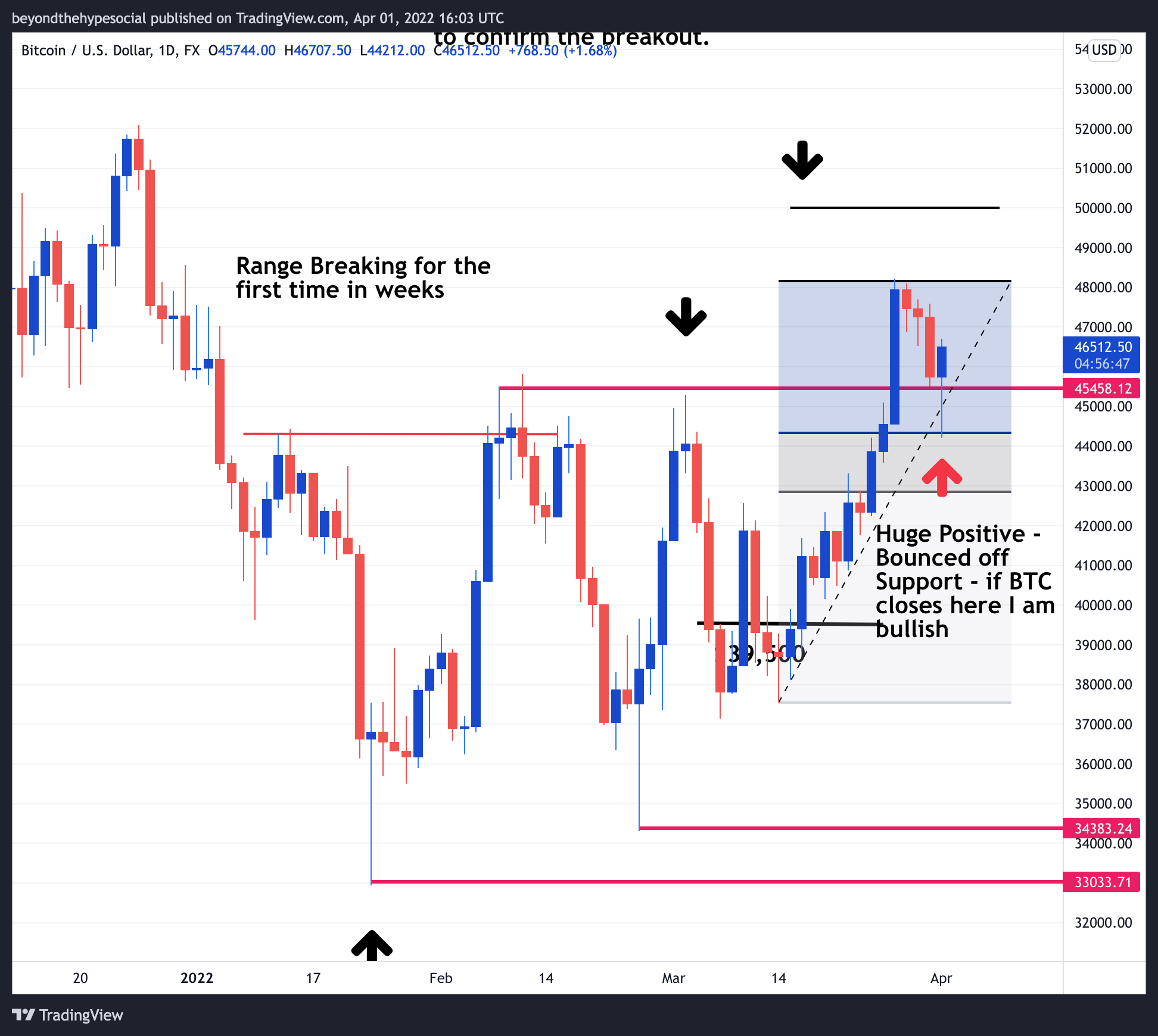 4-3-2022 16:47 CST - Long from Friday at $46,100 stop $45,100 (-$1,000) until $47,100 hit, than breakeven with 1,000 trailing stop. Please ignore the weekend trading data.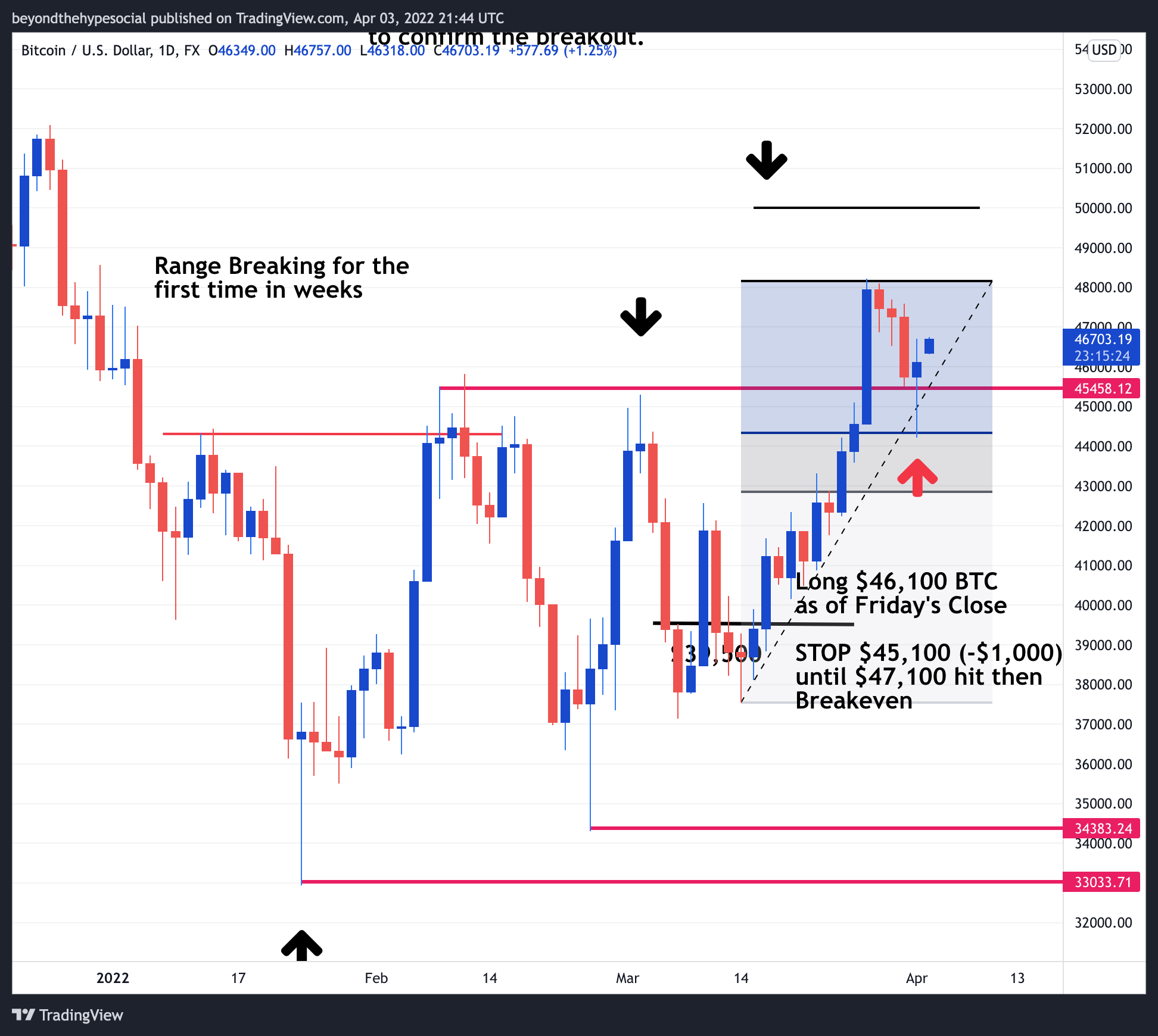 4-3-2022 20:56 update. BTC hit $47,100 which caused me to drag my stop to BE with a $1,000 trailing stop. My trailing stop was hit for +$300 at $47,400.  See below. My trailing stop was too close, or BTC is headed lower. Only time will tell. I can't go broke taking profits.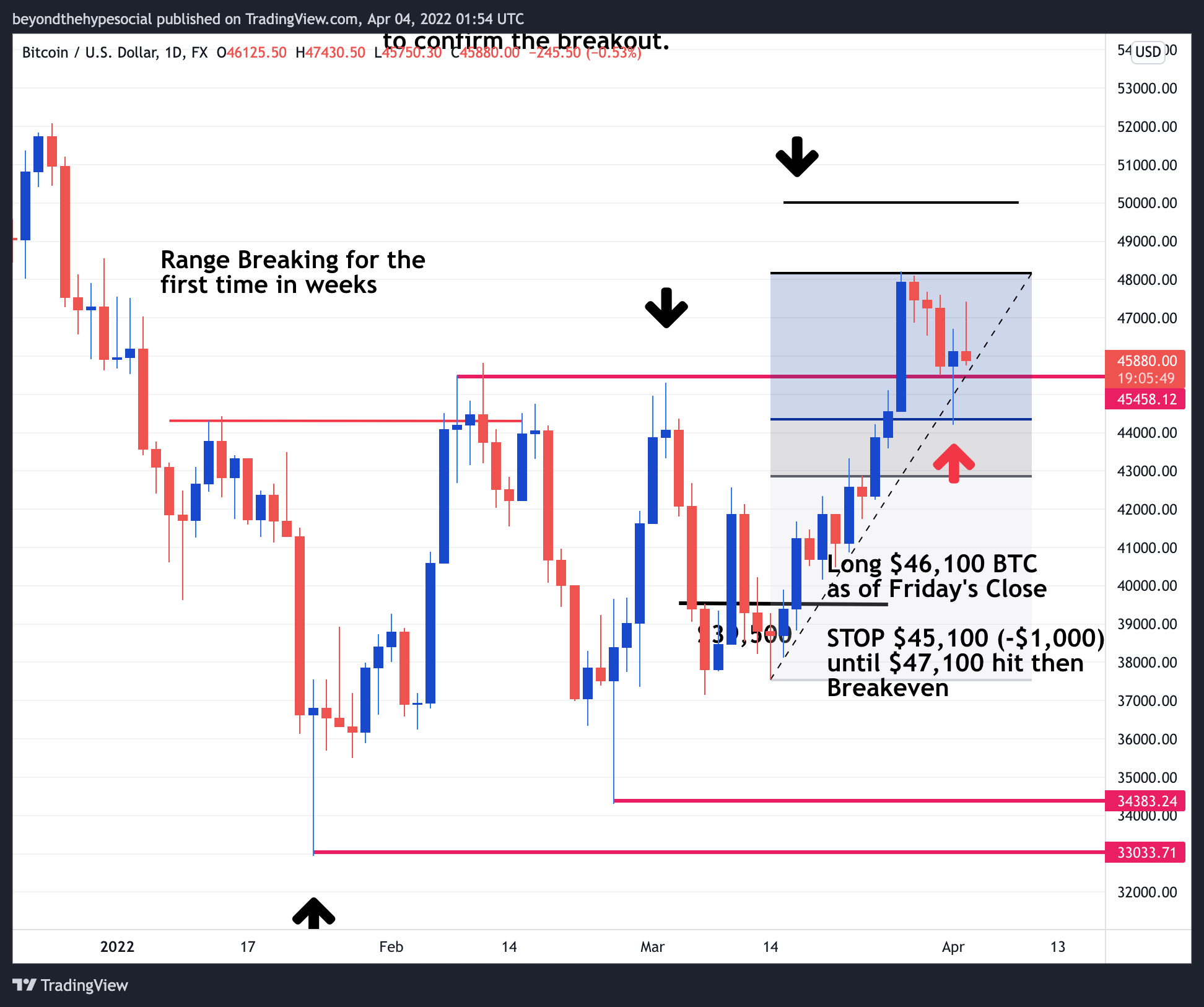 4-6-2022 Update: After being knocked out of the bullish trade with a small gain. I am negative about any failures back inside the range like the one below.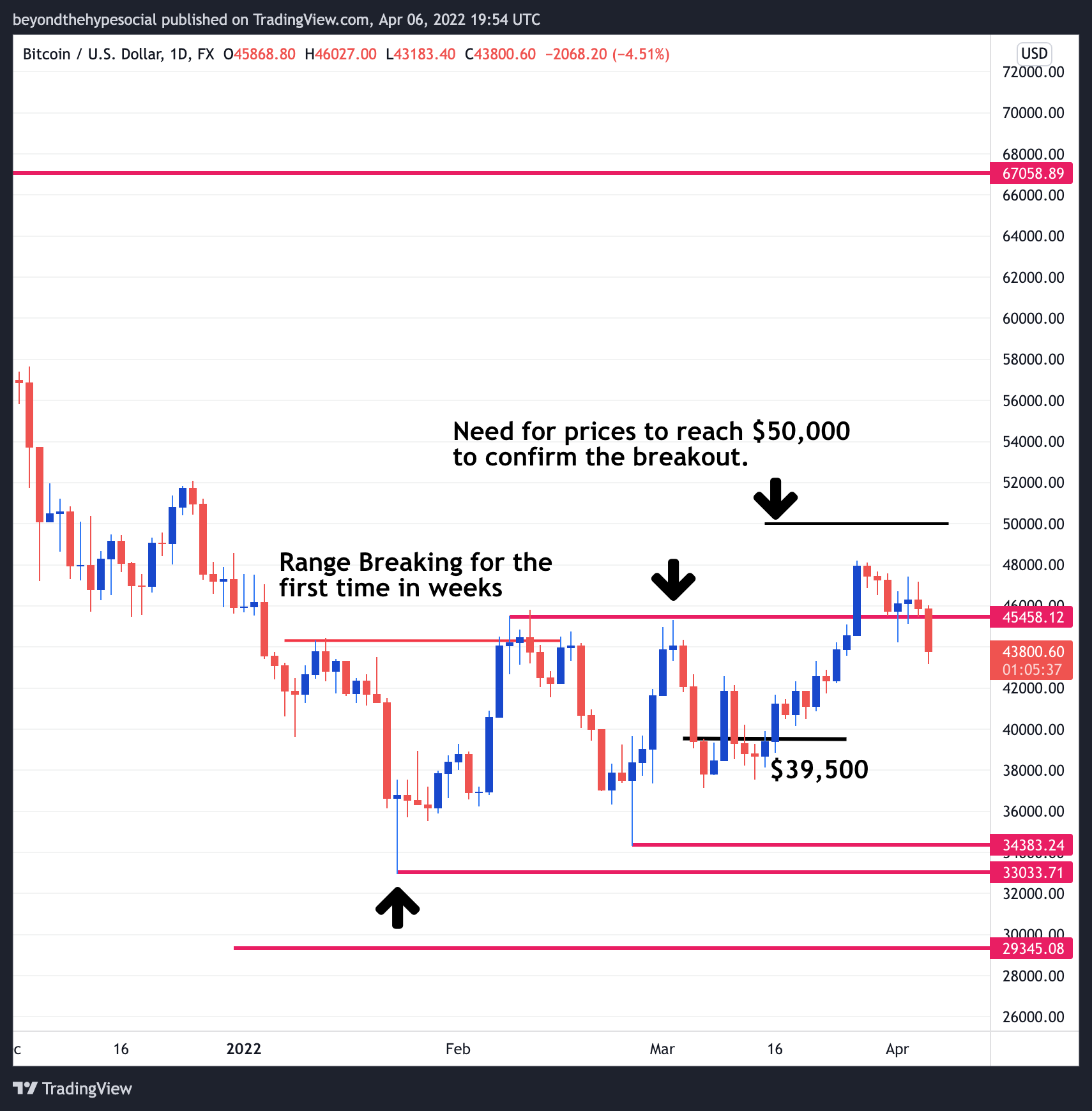 I prefer to be bullish over bearish with BTC.  However, I have no actionable indications from my model. With the right sequence, I would sell $48,000 and buy $33,000-$34,000 range.  Stay tuned.  
4-11-2022 Update.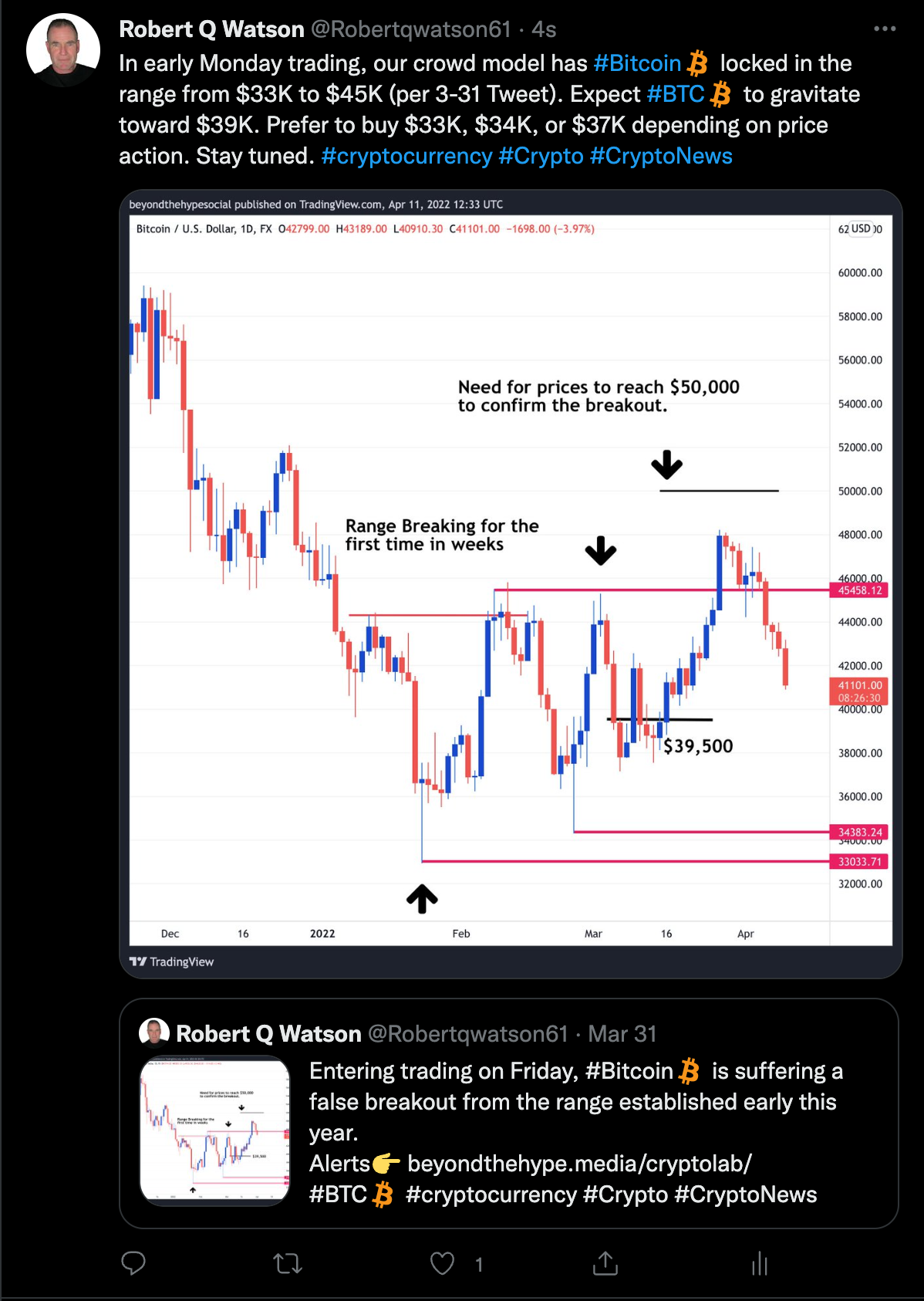 4-15-2022 Update (see below)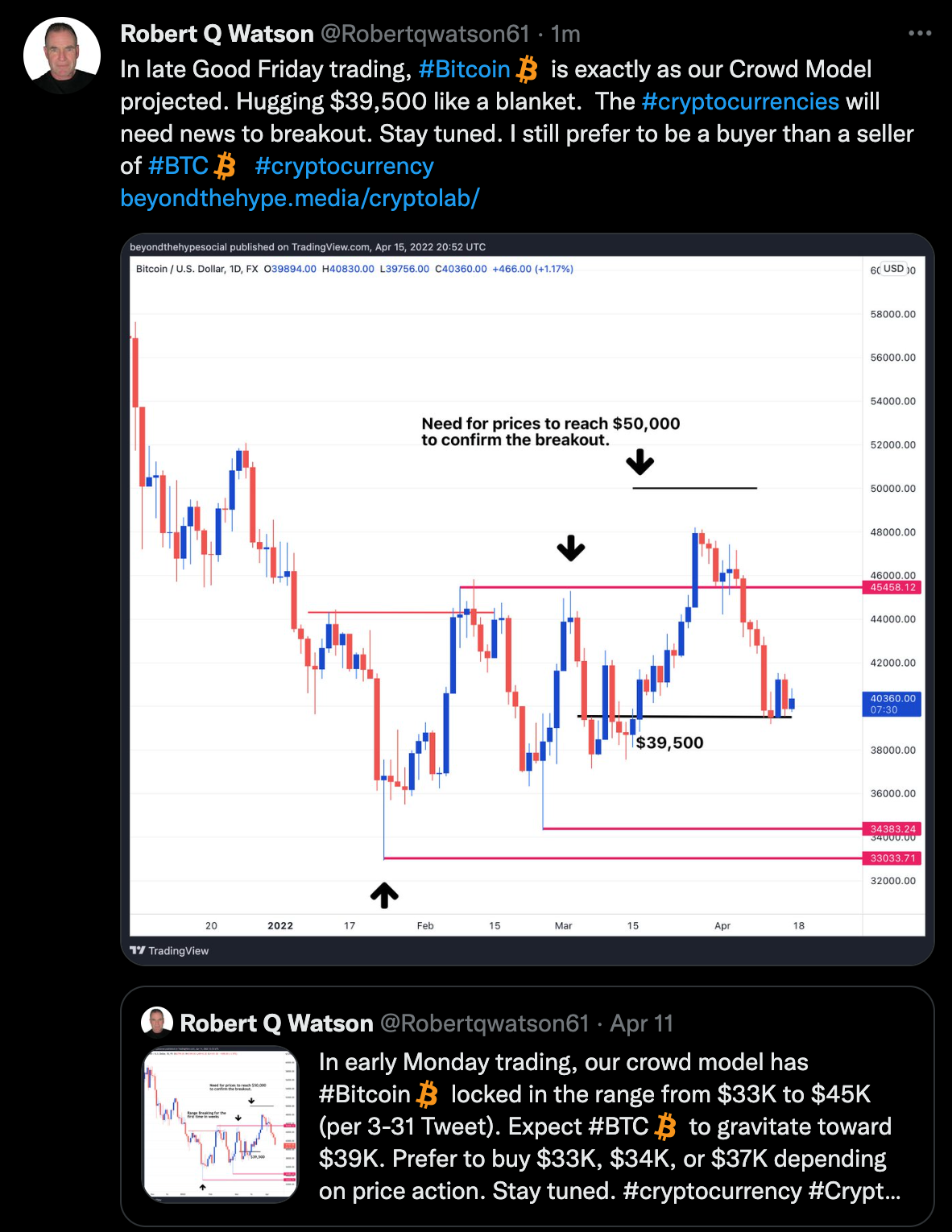 4-22-2022 (22:12 UTC) Bitcoin is exactly as our Crowd Model projected. Closing @ $39,573  The cryptocurrencies will need news to breakout. Monday's trading will be very instructive. Our Crowd model continues to indicate that BTC is trading very clean and orderly. Stay tuned.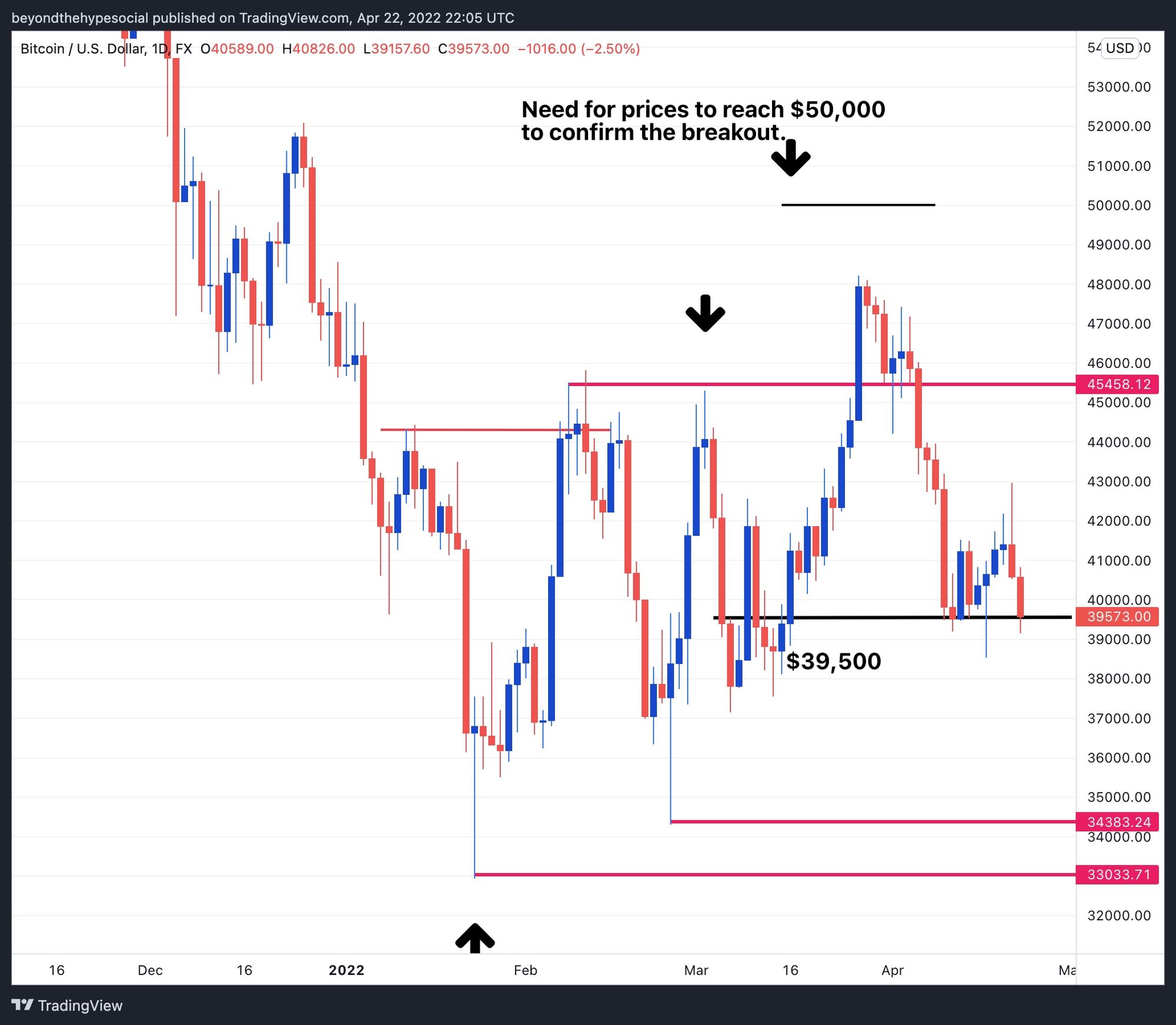 04-25-2022 BOT BTCUSD $40,300 STOP $38,000 expect $42,600 minimum.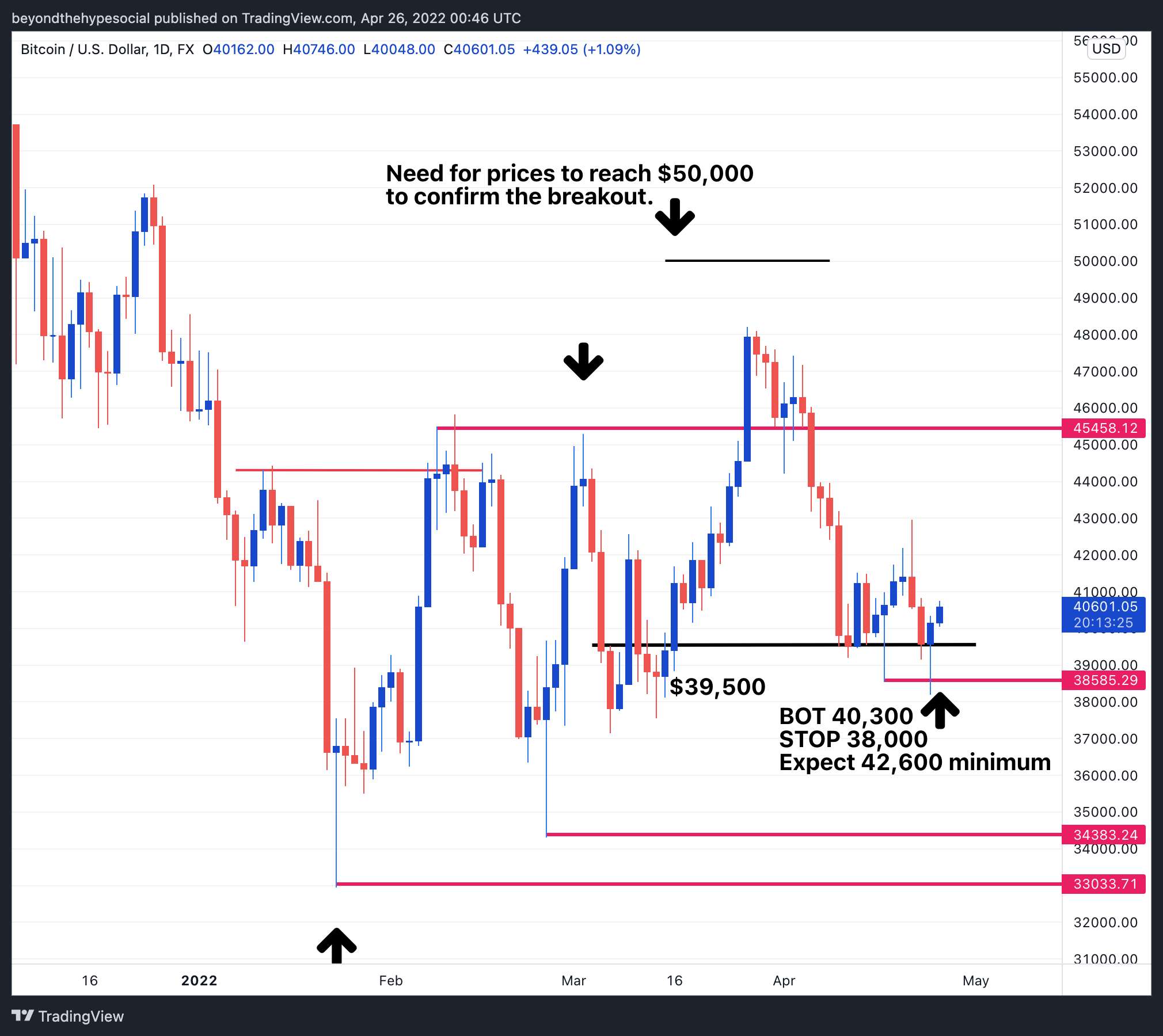 04-26-2022 SOLD BTCUSD to cover my long with a $1,800 loss per BIT. We do lose on occasion but not very often.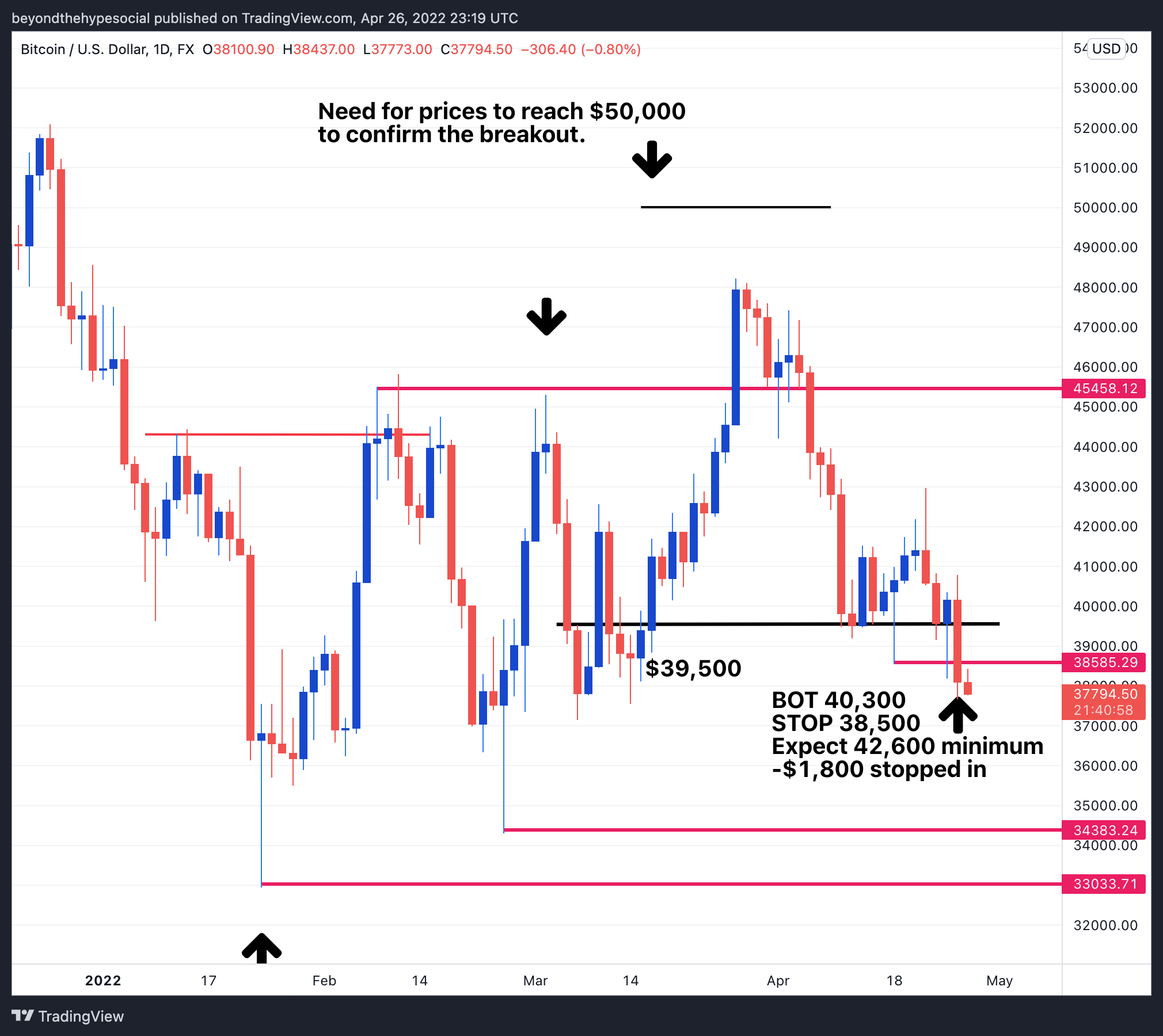 5-16-2022 Since my small loss buying BTC support (see above), I have marveled at the lack of buying at these lows. I have seen nothing worthy of a long position or a short. Bitcoin remains muddled in a bigger range (see below).